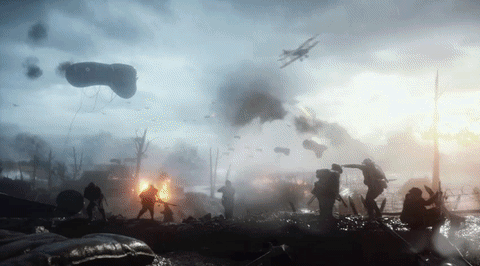 At EA Play, we were lucky enough to see a brand new trailer for Battlefield 1 which is set to come out later this year. A new trailer isn't all we got. We now have some brand new information on what this highly anticipated game will be like.
The first big news was that Battlefield 1 will see the introduction of dynamic weather. The change in weather during the games isn't just for show. The weather will impact how you see and how you hear enemy/ friendly gunfire. This will make players change the way they play during the game.
Battlefield 1 will see the return of controlling vehicles. Players will be able to control airships, battleships and even armoured trains. This gives the players more control over how they want to play and gives more possibilities to play.
Also returning is the destruction of buildings. The more damage you do on a building, the more it will fall apart. This is a very realistic feature that is a part of Battlefield and something the players loved when it was introduced into the Battlefield franchise.
Battlefield 1 really is shaping up to be an incredible game. Going back in time rather than forward was a huge decision and I think it was the right one. Check out the new trailer below. If it doesn't get you pumped for Battlefield 1, I don't know what will.