Image source: 0omoo_Amazing
Real-Life Animal Crossing: New Horizons Cherry Speakers Made By Fan
Yes, They're real!
Animal Crossing: New Horizons has an amazing amount of new furniture from the Animal Crossing: New Horizons 2.0. update, however, one fan, in particular, is still showing appreciation for one of the original items. The Cherry Speakers.
As much as we miss the iconic watermelon furniture, the cherry fruit is one of the most popular amongst the Animal Crossing Fandom, so it's only right they have cherry-themed items.
Reddit User 'Oomoo_Amazing' spent their time through blood, sweat and tears to recreate the cherry speakers, not only are these speakers aesthetically pleasing, but they sound good as well.
They are fully functional and as said by the creator "Yes!! It plays the full animal crossing soundtrack from New Horizons! And thank you!!" That's lead us to believe that the Animal Crossing: New Horizons soundtracks will be pre-set, of course, they could add other Animal Crossing soundtracks, purely for nostalgic reasons, but the cherry speaker is exclusive to New Horizons.
Check out my cherry speakers!! Nearly finished! from AnimalCrossing
In Animal Crossing New Horizons, a typical in-game cherry speaker requires a DIY recipe to obtain it or a player can trade with another player to get it. However, after obtaining the DIY, the player needs 10 Cherries and two iron nuggets to craft it.
It will be interesting to see the final result, the Reddit user has expressed that they will post their results once done! It'll be a great device to sell, as many users have expressed their interest in purchasing the furniture and the creator has shown interest in selling the 3D printing files.
The creator mentioned they were worried about whether they can sell or not, that they may not be allowed. However, they might consider the fact many online sellers create merchandise that's Animal Crossing themed. Hopefully, they make it available to the public.
To close off, the creator asked their audience if they have any suggestions on what to make next. "Any suggestions on my next project? I'll be too bored after this is done! My husband is starting to get irritated with me filling up the house!"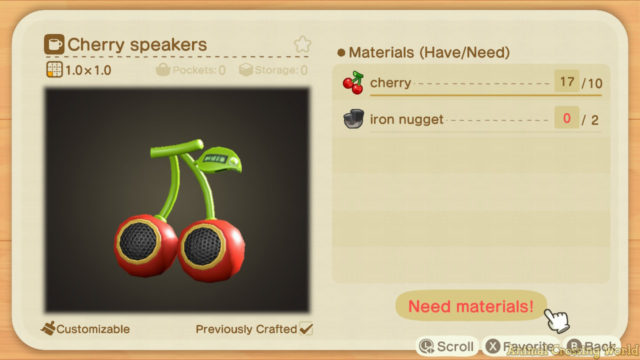 Source: Animal Crossing World
Keep up with all the latest gaming news, competitions, future discounts (see down below) and amazing content.
Twitter: @Go2Games
Instagram: @go2gamesshop
Youtube: Go2games.com
Facebook: Go2games.com
You can subscribe to the Go2Games newsletters via the website.
Vouchers end 20/12/21