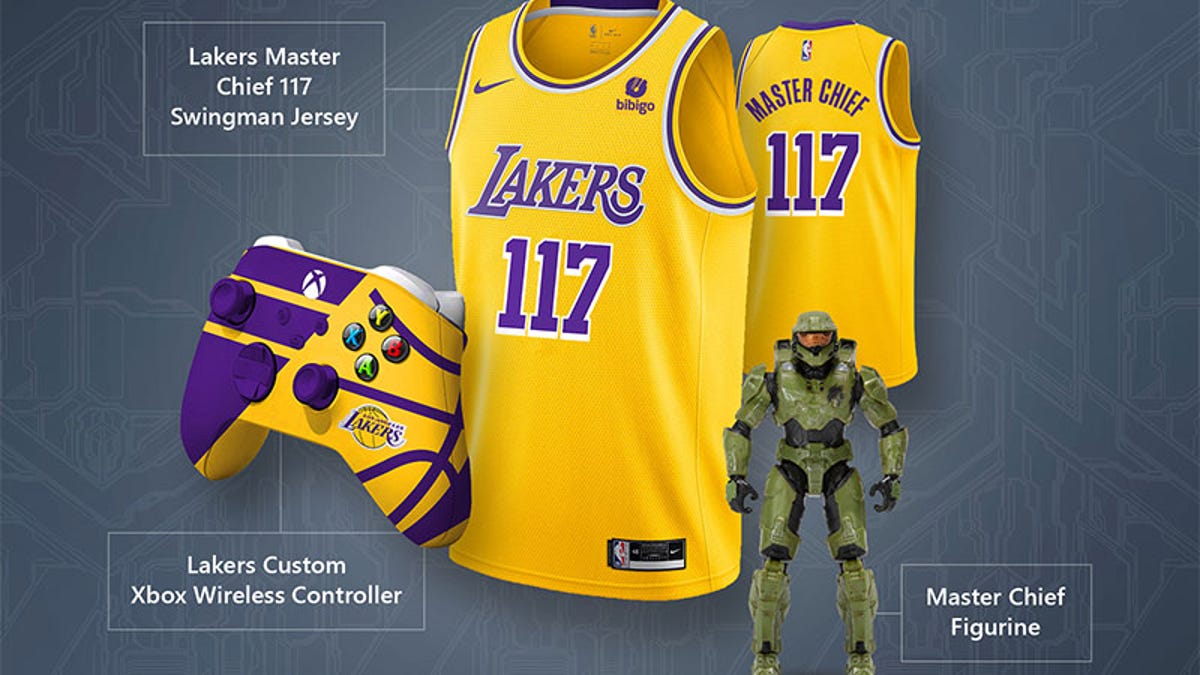 The basketball team was selling limited Halo bundles for one day only at the weekend
Video games and sports often go hand in hand. There have been plenty of collaborations between video game companies and sports brands this year, and over the weekend, we saw another limited, one-time-only collaboration.
The collab was between LA Lakers and Microsoft as the basketball was offering out limited edition Halo bundles at its home game, to celebrate the release of Halo Infinite this week.
LA Lakers Halo Bundle
For one day only, LA Lakers and Microsoft were selling Halo Infinite bundles at the Lakers' home, the Staples Center, during the team's home game against the LA Clippers.
The Lakers ended up losing the game with 119-115 being the final score, but the fans won by being offered the Halo bundle, which consisted of a Lakers Swingman-style jersey, a Lakers Custom Xbox Controller, and a Master Chief figure. The Lakers jersey has the name "Master Chief" and the number "117" embroidered on the back, which is incredibly rare since NBA rules stipulate players can only choose numbers between 0-99 for their jersey (although no one goes for the number 69, unsurprisingly).
Become Master Chief from #HaloInfinite with the Lakers 117 Master Chief Jersey Bundle including a custom Lakers Xbox controller. Available today starting at 1:17pm only at the Team LA store at STAPLES Center.#LakeShow x @Xbox x @Halo pic.twitter.com/P8pA1uPPOs

— Los Angeles Lakers (@Lakers) December 3, 2021
There are some mixed reviews regarding the collab as not much makes it related to Halo Infinite apart from the jersey's custom design. The controller doesn't have anything Halo-related on it and while it is a cool design, it could be for any Xbox franchise.
Yet fans and resellers snapped up the bundles almost immediately and with the price for the bundle being only $20 more than the regular price of a Swingman-style jersey, Microsoft was offering a pretty good deal by throwing in the controller and figure too.
Grab these voucher codes for our website for some discounts! Offer ends December 20th!
Use code FAMILYGAMES – For 5% off Sonic Colours Ultimate (all platforms)
Use code FAMILYGAMES – For 5% off Super Monkey Ball Banana Mania Launch Edition (all platforms)
Sign up for our newsletter from the website.
Instagram: Go2GamesShop
Twitter: Go2Games
Youtube: Go2Games.com
Facebook: Go2Games.com