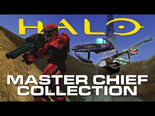 Halo: Master Chief Collection
PC-exclusive maps have been added on Xbox One!
Oh joy! Rapture! 343 Industries have only gone and packed a batch of maps, previously exclusive to Windows PC, into Halo: The Master Chief Collection on Xbox One! I can hear you all smiling..

A shiny new post on Halo Waypoint tells us that six, joyous maps from the original Halo and two maps from Halo 2 will be included in the upcoming title and, what's more, the Flamethrower and Fuel Rod Gun from the PC version are also set to make their debut on console! Such glorious news for a bleak Monday morning.
Halo: The Master Chief Collection will be launched on November 11th.