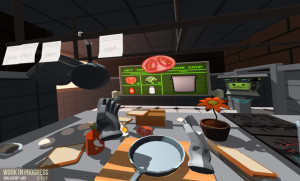 Job Simulator
All the way into 2050, there is no such thing as a job!
If only, if only.. No such thing as work! Well you can see how that feels with one of SteamVR's first games; Job Simulator.
Developer of Job Simulator, Owlchemy Labs, has announced that this exciting new game will be one of the very first games designed for Valve's SteamVR and a range of other virtual reality devices. 
The game is set in 2050, where robots have taken over all things that we consider work! Cooking, cleaning, and other household chores. Job Bot then creates Job Simulator, which goes on to teach humans what it's like to have a job and actually get off their backsides!
"It's thrilling to play a part in the upcoming explosion of consumer VR and we're proud to add another amazing opportunity to the list by being one of only a few select developers building content for some of the most incredible VR hardware in the world," Owlchemy Labs have said.
You can watch the teaser for Job Simulator HERE which, as you can see, is quite a bit like Surgeon Simulator!