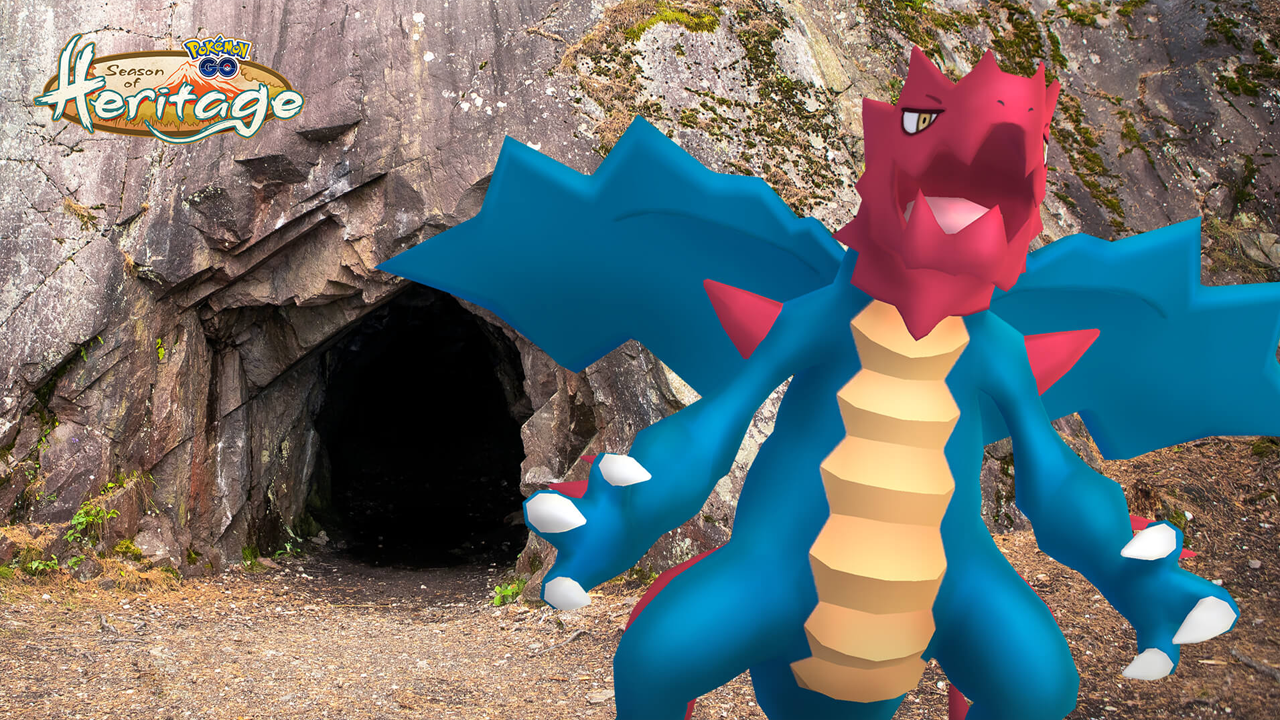 The "Dragonspiral Descent" event, which introduces a new Pokémon from the Unova region, will be one of the first mini-events of the Season of Heritage in Pokémon GO. The Dragon-type Pokémon Druddigon, as well as its shiny variation, will make its introduction to Pokémon GO.
Druddigon and Unova's Legendary Pokémon, Reshiram and Zekrom, will make appearances during the Season of Heritage's Dragonspiral Descent event!

📝 Learn more here: https://t.co/qRBztQXyYU pic.twitter.com/zbzbb80Z4s

— Pokémon GO (@PokemonGoApp) December 6, 2021
Dragonspiral Descent Introduces Druddigon to Pokémon GO!
Professor Willow uncovered a curious ancient gate on one of his travels in Pokémon GO as part of the ongoing plot. Thanks to the  trainers' efforts on Swinub Incense Day, that gate has now been opened. The Dragonspiral Decent is a reference to the Dragonspiral Tower from the Pokémon Black/White games, which is home to either Reshiram or Zekrom.
During the event, these two Pokémon, as well as their shiny variations, can be found in Pokémon GO's Five-Star Raids. The ancient gate's opening has resulted in an influx of Fire, Electric, and Ice encounters in the game. Druddigon can be obtained by completing the Field Research Tasks linked with it. You can also catch Druddigon through 3-Star Raids.
Other Pokémon Available
The Dragonspiral Decent event will begin at 10 a.m. local time on December 7th and end at 8 p.m. local time on December 11th. Seel, Vulpix, Sneasel, Dratini, Mareep, Bltizle, Trapinch, Deino, and Fire-type Darumaka are among the other Pokémon that will appear in greater numbers during the event.








In addition, Dragonair and Vibrava will arrive in greater quantities. Players who catch all of the requisite Pokémon will receive 1000 XP and 3000 Stardust as part of an event-themed Collection Challenge. During this event, the Mega Evolution of Steelix will also be available.



Druddigon is a Dragon-type Pokémon, as its name suggests.  Rather than releasing them all at once, like they did for the first two regions, they are now being released in stages. Dedenne was just released in the Season of Mischief, and this technique turns it into an event with a long wait time. The Unova dex in Pokémon GO still has some gaps to complete, but it is gradually filling in.
Although there is a huge list of Pokémon with higher spawn rates for this event, there are no sources stating that the chances of finding shinies has increased. Players will have to either hope for higher odds to match the higher spawn rates, or resort to utilising incense to attract larger numbers of Pokémon. At this time, the Field Research assignments that will award Druddigon are likewise unknown.
Pokémon Brilliant Diamond and Shining Pearl is available on Nintendo Switch now. Purchase it from our store! Read here for some in-game guides to help you out!
Pokémon Legends: Arceus will be released for Nintendo Switch on 28th January 2022 for Nintendo Switch.
Don't forget to subscribe to the Go2Games newsletter for updates on the latest gaming news and deals, and follow our socials below!
Twitter: @GO2GAMES
Instagram:go2gamesshop
Facebook: Go2Games.com
Youtube: Go2Games.com
Store: go2games.com
Deals and Vouchers!
Use code FAMILYGAMES before December 20th for 5% off: