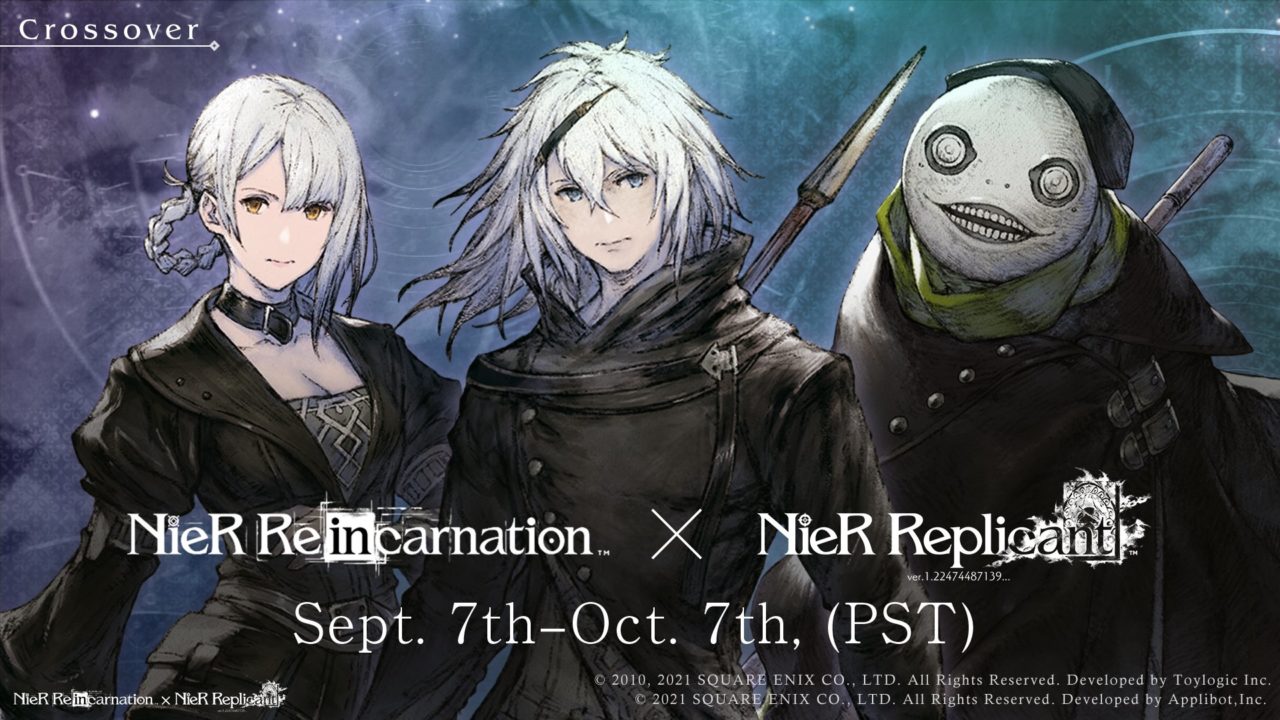 The Nier Reincarnation X Nier Replicant Crossover Came Sooner Than expected
Square Enix has released over 5 events since the launch of Nier Reincarnation including the Nier Automata crossover. Now they've announced a Nier Replicant crossover, which was released earlier this week on the 7th of September 2021. Nier Replicant was originally released as 'Nier' on PlayStation 3 and Xbox 360 in 2010, then square Enix released a remake 'Nier Replicant 1.22 ver' on the PS4 (Playable on PS5) back in April 2021.
The Nier Reincarnation and Nier Replicant crossover will feature 3 characters: the main protagonist, Kaine, and Emil. This will also include an exclusive story for the three characters that can only be found through the gameplay of Nier Reincarnation and nowhere else. The log-in bonus for the event will be a weapon called 'Iron Pipe' which is the first weapon the player uses in Nier Replicant's prologue and can obtain later on in the game as a side quest in 'The Forest of Myth'. The event will last from the 7th September – 7th October 2021.
It's here! The NieR Replicant ver.1.22 crossover is on now!

Featuring limited characters from the world of NieR Replicant ver.1.22 including Kainé, The World-Ender, and Emil! Who are you hoping to get?

Download: https://t.co/5Smqiz1ARg#NieR #NieRReincarnation #NieRReplicant pic.twitter.com/TYf4HQVhzU

— NieR Re[in]carnation EN (@NieRReinEN) September 8, 2021
What is Nier Reincarnation?
Nier: Reincarnation is one of Square Enix's most recent creations and originally released for mobile platforms on the 28th July 2021 and was shown at Square Enix's E3 2021 showcase. Nier: Reincarnation, an action-roleplay game that takes place in the same universe as Nier: Replicant and Nier: Automata. It is the first game in the Nier series to ever be released on a mobile phone.The game is set in a mysterious world called 'The Cage' where the player takes on the role of the main character who is known as 'The Girl of Light' who is guided by a ghost-like being called Mama, who seems to have more of a child-like appearance, the best way to explain it is the look of a small napkin thrown over a tiny doll, in attempts to look similar to a simple Halloween costume. The two venture together through The Cage to unlock memories all while avoiding a God-like creature they call The Dark Monster.
An exciting crossover with NieR Replicant ver.1.22 is on the horizon!

Featuring crossover characters you might be familiar with…
Meet The World-Ender, Kainé, and Emil in NieR Re[in]carnation from Sept. 7th PST.#NieR #NieRReincarnation #NieRReplicant pic.twitter.com/dAib59glW1

— NieR Re[in]carnation EN (@NieRReinEN) September 3, 2021
This game is only available on mobile, however playing through this event will allow you to experience the Nier Replicant characters in a different setting and enjoy NieR in general on a new format, not to mention that completing this event means you'll be able to get to keep Emil, Kaine and the protagonist and playable characters (that's completing by collecting enough event medals to do so).
If you enjoyed this, keep up with all the latest gaming news, competitions, future discounts, special offers (CLICK HERE)and amazing content.
Twitter: @Go2Games
Instagram: @go2gamesshop
Youtube: Go2games.com
Facebook: Go2games.com
You can subscribe to the Go2Games newsletters via the website.