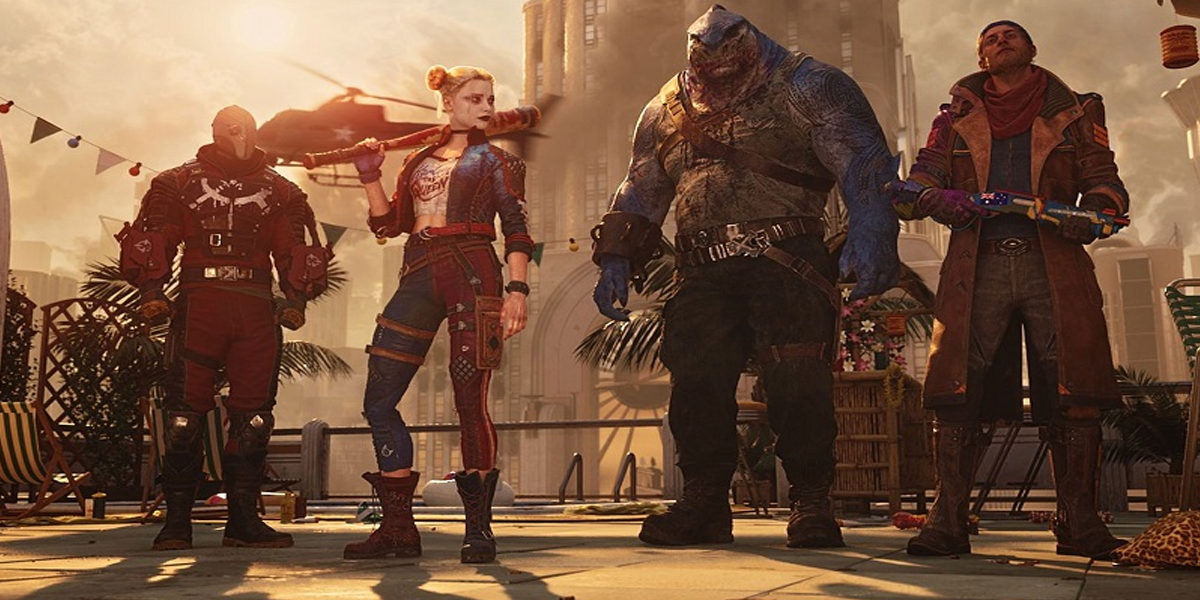 Gameplay for Suicide Squad: Kill the Justice League dropped at the 2021 Game Awards. We got a glimpse at gameplay for all four playable characters: King Shark, Harley Quinn, Captain Boomerang, and Deadshot. The teaser begins with the Suicide Squad insulting the Flash by referring to him as the Justice League's mascot, before cutting to a gameplay montage filled with intense combat. Here's a look at the trailer:
What to Expect in Suicide Squad: Kill the Justice League
The conflict took place in the heart of the city, and it included the kind of chaotic combat you'd expect from the Suicide Squad. We witnessed footage of King Shark climbing buildings, engaging in lightning fast physical combat with his fists, and, quite gruesomely, biting off an enemies head.
Harley Quinn swung in the air with what appeared to be a grapple, then she swung her baseball bat from the ground to take out enemies. We saw some third-person shooter action in Deadshot. From the looks of what we saw, every character has a good mix of ranged and close-combat options. The game looks more like a third-person shooter than it does a superhero – well villain, in this case – game, but maybe it will feel different in the whole game.
Suicide Squad was first announced in 2020. It will be Rocksteady's first game after the Batman Arkham series, and is set in the same universe.  Up to four players will be able to control the game's antiheroes.
No specific release date has been given at this time for Suicide Squad: Kill the Justice League, but  the game is expected to release  in 2022 on PS5, Xbox Series X|S, and PC.
Not feeling villanious enough to get on board with the Suicide Squad? Take on the role of a hero instead! Try out Marvel's Spider-Man: Miles Morales or Marvel's Guardians of the Galaxy! Available on PS5 and PS4 respectively, from our store.
Don't forget to subscribe to the Go2Games newsletter for updates on the latest gaming news and deals, and follow our socials below!
Twitter: @GO2GAMES
Instagram:go2gamesshop
Facebook: Go2Games.com
Youtube: Go2Games.com
Store: go2games.com
Deals and Vouchers!
Use code FAMILYGAMES before December 20th for 5% off: