AT LAST, SIR TERRY, WE MUST WALK TOGETHER.
Terry took Death's arm and followed him through the doors and on to the black desert under the endless night.

The End.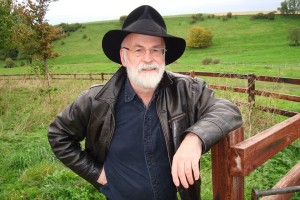 As I sit here, with a copy of Terry's Pratchett's Reaper Man on my desk, it is with great sadness that I say goodbye to one of my heroes. Sir Terry Pratchett, author of the Discworld series of novels, passed away this Thursday 12th March 2015, aged 66. It is reported that he passed away in his home, surrounded by his family, "with his cat asleep on his bed".
Sir Terry Pratchett was diagnosed with a rare form of early-onset Alzheimer's disease in 2007, however he continued writing, completing his final book this summer. He completed over 70 books during his lifetime.
Larry Finlay of Transworld Publishers' told the BBC that he was "deeply saddened" by the new of Sir Terry Pratchett's death and that
"In over 70 books, Terry enriched the planet like few before him. As all who read him know, Discworld was his vehicle to satirize this world: He did so brilliantly, with great skill, enormous humour and constant invention.

Terry faced his Alzheimer's disease (an 'embuggerance', as he called it) publicly and bravely. Over the last few years, it was his writing that sustained him. His legacy will endure for decades to come."
While Sir Terry was an open supporter of assisted suicide after his diagnosis – stating in the past that he wanted to go at a time of his own choosing – a source has reported that he passed away of natural causes, surrounded by his family.
Sir Terry's books have given me great comfort and entertainment throughout my adult life, often giving me food for thought amidst the (many) great laughs. The news of his passing, and the format in which it was delivered left me choked up, thoughtful, even teary-eyed. But while the news is sad, something about the circumstances of it somehow seems fitting, appropriate. This, paired with the Discworld books pragmatic approach to Life and Death, offers comfort, for we must remember:
"No one is actually dead until the ripples they cause in the world die away…" – Reaper Man, Terry Pratchett
As always, I recommend the Discworld to everyone that will listen, and will continue to do so. His books approach life with such great humour and wit. Let us celebrate his life and works. Do you have any favourites? What do his books means to you?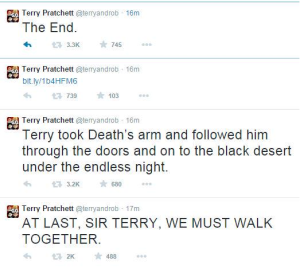 The t-shirt that Terry Pratchett wore to conventions: pic.twitter.com/9KJvIpakBc

— Jason (@NickMotown) March 12, 2015
Many thanks for all the kind words about my dad. Those last few tweets were sent with shaking hands and tear-filled eyes. — Rhianna Pratchett (@rhipratchett) March 12, 2015
"I meant," said Ipslore bitterly, "what is there in this world that truly makes living worthwhile?"
Death thought about it.
CATS, he said eventually. CATS ARE NICE.