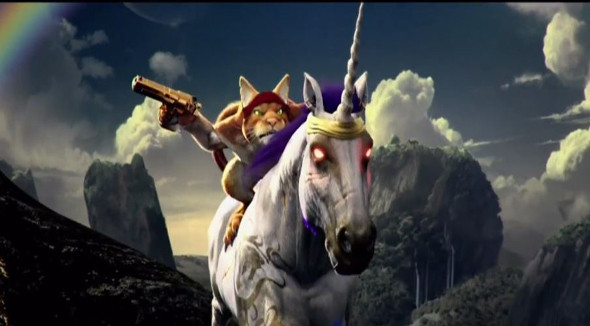 Trials Fusion's NEW DLC allows you to play as a cat riding a unicorn
At E3 last month, publisher Ubisoft announced that Trials Fusion will be receiving a new expansion, entitled Awesome Level Max. The level allows you to play as a cat riding a unicorn, which is quite a big leap from the usual motocross bikes that you use, but still pretty epic!
Players will also be able to ride the unicorn alongside those who are riding the usual bikes, when in multiplayer mode. The unicorn will apparently have the same physics as a bike when riding it.
New challenges will also be coming to the game. One of these acquires you to ride around with a very large bobblehead, and the other causes your bike to shake uncontrollably. Awesome Level Max consists of two parts: the Awesome Adventure, which features the unicorn, and Red Lynx vs. All Stars, which will showcase the best community-made maps.
The launch date for the expansion has been set for 14th July 2015, and will be made available for the PS4, Xbox One, Xbox 360, and PC.