What Indie Games should I buy on the Switch?
Well, my good friend, you have come to the right place. Now to be very clear, most of these games are platformer RPGs or puzzle adventure RPGs. So if you don't like those…STAY HERE, because you might change your mind! Here are 5 games on the Nintendo Switch you should get (like now).
1. FEZ
Fez is a puzzle-platformer adventure game, developed by Polytron Corporation. It follows the story of a young boy named Gomez who woke up one morning received a red Fez (much like a red hat) it unlocked the power to shift between 2D and 3D dimensions, but unfortunately, this is tearing the world apart and it's up to Gomez to stop it. This adorable platformer is definitely worth playing, there are sure to be some puzzles that'll stump you here and there but it is indeed a great choice if you love puzzle and adventure.
2. A Short Hike
A Short Hike is an open-world adventure game developed and published by Adam Robinson Yu. The story starts off with a bird name Claire travelling to the countryside for an unknown reason. It is revealed that she is staying with her aunty and then found out the exact reason why (not revealed to the player) but it is something that has got Claire feeling quite down. Claire wants to make a phone call to a particular person but must fly all the way to the top of a mountain to get a good reception, so that's where the journey begins. There are many people to meet on this journey and tasks to go through, this game is rather short but it is worth every penny and very enjoyable. Even after completing your main goal, there is still so much to do. It almost becomes like another form of game similar to Animal Crossing, where you have fun doing the most simple things like fishing or playing…stickball. It's a great buy and I recommend it. Despite the fact that it's short, this game is one that is at the top of my recommendations.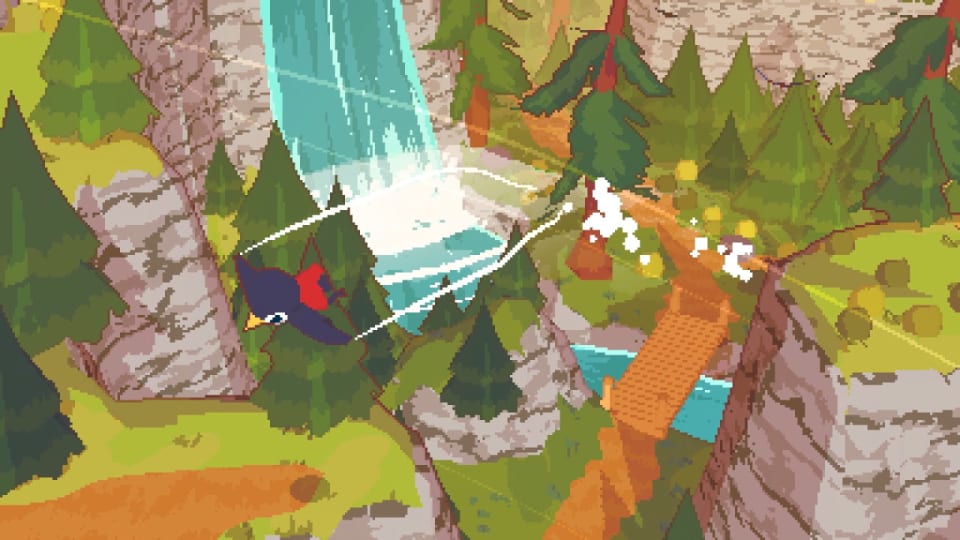 3. Wandersong
Where do I begin? Wandersong is an amazing game and you shouldn't think twice about buying it. Developed by Greg Lobanov, A Shell in the Pit and Dumb & Fat Games, Wandersong is a beautiful game that follows the story of a simple Bard. He is a singer who encounters a messenger of a goddess called Eya in a dream. She tells the Bard it's the end of the world and that he isn't the hero and he can't save it. The Bard wakes up and forgets about the dream until his home town called Langtree gets haunted by ghosts and he has to sing a song to remove them! Along this journey, he learns that if he gets all the pieces of the earth song and sings it, he can save the world from ending. So, he sings the song of the overseer to meet…the Dream King who is supposed to give him a piece of the earth song that can save the planet. But the Dream King…he says No. End of story. BUT, that's just where the story begins…He also meets a young girl called Miriam who accompanies him along the way.
4. Minute of Islands
Minute of Islands is like an eerie Adventure Time type game, it is not for kids of a young age. Though hand-drawn, this game has quite a lot of gore, blood and includes depictions of mental health conditions in a post-apocalyptic world. Now that is out the way, Minute of Islands is a puzzle adventure game developed by Studio Fizbin. The story starts off with a young girl named Mo, also known as the wielder of the Omni switch; notices the giants that run the air purifiers to stop the poison from infecting the air, are in fact dying. So she sets off to see each and every island, to activate the air purifiers and revive the giants. Mo tends to push everyone away and puts work before her family and friendships. This is a great puzzle game for those looking for more of a story and a life lesson.
5. Half Past Fate
Half Past Fate was developed by Serenity Forge. It's a puzzle, slice-of-life type of game. You play as many different characters who cross each other's paths on different days and occasions and witness their stories through puzzles and interesting dialogue along the way. You learn how they meet their soulmates through the most interesting ways.
Love Indie Games? Keep up with all the latest gaming news, competitions, future discounts (see down below) and amazing content.
Twitter: @Go2Games
Instagram: @go2gamesshop
Youtube: Go2games.com
Facebook: Go2games.com
You can subscribe to the Go2Games newsletters via the website.
(Great deals and Discounts )
Use TPOINT10 – For 10% off Two Points Hospital (Xbox One)
**Ends July 14th 2021**
Use BLOOD10 – For 10% 0ff Bloodborne – GOTY Edition (PS4)
**Ends July 14th 2021**
Use SQUAD10 – For 10% off Star Wars: Squadrons (PS4)
**Ends July 14th 2021**
Use GEARS10 – For 10% off Gears 5 Standard Edition (Xbox One)
**Ends July 14th 2021**
Use VULCAN10 – For 10% off Roccat Vulcan 121 – Mechanical RGB Gaming Keyboard
**Ends July 14th 2021**
Use VULCANRGB10 – For 10% off ROCCAT Vulcan 120 – Mechanical RGB Gaming Keyboard
**Ends July 14th 2021**
Use KHAN10 – For 10% off ROCCAT KHAN Aimo 7.1 High Resolution RGB Gaming Headset – White
**Ends July 14th 2021** https://www.go2games.com/roccat-khan-aimo-gaming-headset-white
Use KAIN10 – For 10% off Roccat Kain 202 Aimo RGB Wireless Gaming Mouse – White
**Ends July 14th 2021**