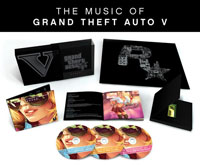 GTA V Soundtrack..
..will become available on vinyl & CD, with 59 tracks, through Rockstar..
Spot on news for Tunesday! 
Both vinyld and CD versions have been planned for the GTA V soundtrack and has been limited to a production run of 5,000 units. With the next gen version of the game being released in just two weeks (PS4 & Xbox One on November 18), Rockstar has revealed this limited edition soundtrack SKU.
Both versions will be made available on December 9. The CD SKU includes a branded Grand Theft Auto V gold brick-shaped USB Drive, artwork and poster, and comes in a special die-cut pack; whilst the vinyl version offers six records, a colour booklet and a lithograph poster.
The PC version of GTA V will be released in January next year.