Oh, Activision, my favorite punching bag, don't change for anyone… Unless it's for the folks at ABK, in which case, please do, because death threats, regular physical abuses and workplace mistreatment are pretty hard to consistently joke about in a smart way. Nothing is funny about those things… That's where I come in.
This time, I'll be going into the company's stock investigation being carried out, so here's to hoping we can both learn a smidge on economics from this farce.
A Wall Street Journal article reported that Barry Diller (Fox co-founder, henceforth Barry), Alexander von Furstenberg (professional anti-affair extraordinaire, henceforth Allie) and David Geffen (henceforth, Dave) are under not one, but TWO federal investigations over some recent purchases of Activision shares just before the Microsoft acquisition.
Barry, Allie and Dave bought $108 million in shares between them days before the acquisition. Smash cut to today and those stocks are now worth $168 million, making our lovable ultra-rich underdogs a profit of $60 million between them.
The Justice Department is "investigating whether any of the options trades violated insider-trading laws", while the Securities and Exchange Commission "is separately conducting a civil insider-trading investigation". These measures are seemingly due to the wombo-combo of the amount invested by the three, the timing of the deal and Barry D's known connection to My Personal Parasocial Arch Nemesis and Mick-Taking-Dispensary, Bobby Kotick.
Bobby and Barry worked together as CEOs on the Coca-Cola company board before Monsieur Kotique's stepping down from the position in the wake of his industry abuses and poor management coming to light. Barry's even gone so far to call him a 'life-long friend' in the past.
On a purely unrelated note, here's one handy-dandy picture from an interview sometime before Bobby "stepped down entirely voluntarily from my high-paying job at a major company I swear you guys":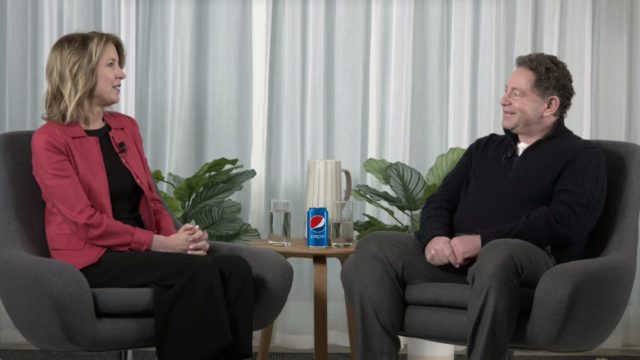 Product Poems:
There was once a lass so tiny, Tina. Who wonders land, borders, Tsushima? Excuse me miss, but I must dismiss your credentials from… Shujin Academia.
There was once a young woman called Aloy, who's south-end faced west like McCoys! Surely forbidden, so purely well-hidden, till coming under Lottie's employ.
New voucher code: 
FUNKO5 for 5% off
Voucher ends 24/03/22
Sign up for our newsletter from the website.
Instagram: Go2GamesShop
Twitter: Go2Games
Youtube: Go2Games.com
Facebook: Go2Games.com
Store: Go2Games.com