5 Puzzle Games to get on the Nintendo Switch
Puzzle games don't always have to be sodoku, crossword or mathematic. Yes, those can be fun but we enjoy a little Puzzle Adventure game or RPG here and there too. These are some puzzle games for the Nintendo Switch that take a different turn and twist the definition of puzzle games into something new.
1. Superliminal
If you were a fan of The Stanley's Parable (which will also be releasing on the Switch some time this year) you might be a fan of Superliminal, developed by Pillow Castle. It's a first-person game that plays around with perspectives, optical illusions and the size of certain objects to access new areas, which you will learn are called dream layers. It follows the story of the player who has agreed to participate in a dream therapy study for Pierce institute, which runs tests with their new technology. The player goes through each dream realm on their own and as the test run fails, they end up being stuck there and must find their way out through playing with perspectives.
2. The Spectrum Retreat
Another first-person puzzle game you might be a fan of if you enjoyed Stanely Parable or Superliminal. The Spectrum Retreat, developed by Dan Smith Studios, The Spectrum Retreat is set in The Penrose, a five-star hotel, that has the relaxing life everyone wishes for; but what's different is that you're being kept there against your will. You must uncover the mysteries of The Penrose and the dark truth behind your stay by hacking into the system, which includes solving colour-coded puzzles.
3. The Longing
The 400-day game. Yes, that is real-time and if you have the patience and the close observation, this is your type of game. Developed by Studio Seufz, The Longing follows the story of a King who has asked his last servant 'Shade' to wait while the King sleeps, the Shade must 400 days before they wake the King up. It is up to the player what they do to pass time. There are loads of secrets hidden in the cave and it is up to the player to find out what they are and what they do with them to lead the Shade towards their fate.
4. Captain Toad Treasure Tracker
Captain Toad, we love him to bits (Not more than Professor Toad) but this is a puzzle adventure game. Originally released on the Wii U but is now available on the Nintendo Switch. It plays around with perspective and strategy in an isometric platform. Nintendo knew what they were doing with this one, it's fun to play alone or with the family and can be something worth picking up.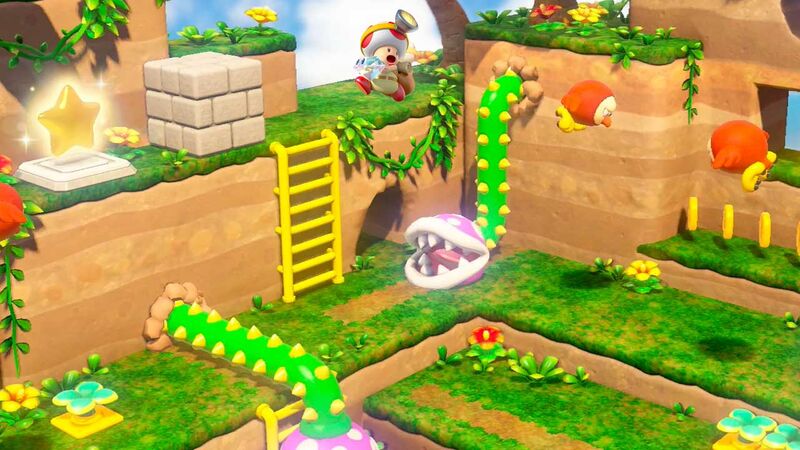 5. Katrielle's Mystery Journey
This one is a good game to pick up if you're looking for riddles, narrative and great dialogue. Developed by Level-5 and a spin-off from the Professor Layton series. If I am going, to be honest here, Katrielle's Mystery Journey is nowhere near as good as the original Professor Layton games, they barely touch the greatness actually. However, if you're looking for puzzles and wonderful music, then it's a good place to go and definitely worth picking up, despite some being rather easy there are a lot of puzzles that stump you as well. It's something to do on a train ride or in your downtime.
Keep up with all the latest gaming news, competitions, future discounts (listed below) and amazing content.
Twitter: @Go2Games
Instagram: @go2gamesshop
Youtube: Go2games.com
Facebook: Go2games.com
You can subscribe to the Go2Games newsletters via the website.
(Great deals and Discounts)
Use TPOINT10 – For 10% off Two Points Hospital (Xbox One)
**Ends July 14th 2021**
Use BLOOD10 – For 10% 0ff Bloodborne – GOTY Edition (PS4)
**Ends July 14th 2021**
Use SQUAD10 – For 10% off Star Wars: Squadrons (PS4)
**Ends July 14th 2021**
Use GEARS10 – For 10% off Gears 5 Standard Edition (Xbox One)
**Ends July 14th 2021**
Use VULCAN10 – For 10% off Roccat Vulcan 121 – Mechanical RGB Gaming Keyboard
**Ends July 14th 2021**
Use VULCANRGB10 – For 10% off ROCCAT Vulcan 120 – Mechanical RGB Gaming Keyboard
**Ends July 14th 2021**
Use KHAN10 – For 10% off ROCCAT KHAN Aimo 7.1 High Resolution RGB Gaming Headset – White
**Ends July 14th 2021** https://www.go2games.com/roccat-khan-aimo-gaming-headset-white
Use KAIN10 – For 10% off Roccat Kain 202 Aimo RGB Wireless Gaming Mouse – White
**Ends July 14th 2021**