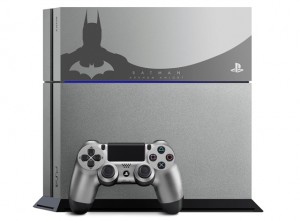 Batman: Arkham Knight
A limited edition PS4 has been created especially for Bats!
Bat fans, you're in for a treat! A limited edition of the PS4 has been created and will come out alongside the Batman: Arkham  Knight game this June 2015. The console will be a 500GB in Steel Grey, with a Batman faceplate. It also comes with a matching controller!
There will also be a standard Arkham Knight bundle which will include a classic black PS4 console. Both SKUs will include some in-game DLC content as well, you'll be pleased to know. 
Batman: Arkham Knight has been delayed twice already this year, which is a bit of a pain! It's new release date though is 23rd June 2015. Well worth the wait though!