Bioshock Infinite
The 2013 game is now FREE for Xbox 360 Gold members with a paid subscription
ame becaWell isn't this a treat?! The third instalment from the distinguished Bioshock series, Bioshock Infinite, is now FREE to download for Gold members with a paid subscription on the Xbox 360. The free download was given yesterday and will run through the end of the month for these lucky subscribers. The previous download was the Tomb Raider reboot, which ran from 1st to 15th March.
Bioshock Infinite was originally released two years ago, this month, for PC and consoles. This game has shipped around 7 million copies to date, even though Irrational Games shut down, effectively, in February last year.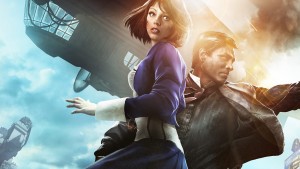 2K Games in Marin, California, have now taken over the Bioshock Franchise, even though no announcements for a new game have been made as of yet. As reported by the CEO (Strauss Zelnick) of 2K Games' parent company, Take-Two, the Bioshock series has not yet reached it's commercial or critical potential.
 Popping over to the Xbox One, Xbox Live Gold members can download Rayman Legends and IDARB for free and for the entire month! Aren't you all a lucky bunch?!