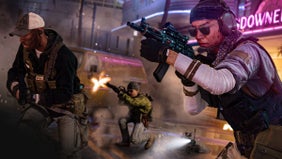 Treyarch has revealed a sneak peek at new map, Miami Strike which will be arriving next week in Call of Duty: Black Ops Cold War's mid-season update.
The game studios stated 'With the sun glistening off the colourful murals of Miami's South Beach neighbourhood, Miami Strike will focus the action into a smaller daytime rendition of the original map.'
Miami Strike is one of three new maps that are due to be released next week. The two other maps are Mansion (2v2, 3v3), a Gunfight and Face Off map set in Havana, Cuba and Golova (multi-team), a small Russian village located in the Ural plains. The studio released the preview of the new map via their Twitter account:
Sun's up, guns up. Miami Strike comes to 6v6 next week with a new close-quarters layout and 24/7 playlist. pic.twitter.com/umoaxxfYPq

— Treyarch Studios (@Treyarch) March 24, 2021
Golova offers 'plenty of close-quarter combat opportunities throughout the town, from a massive church to its rows of houses and industrial park', whereas Mansion includes two open courtyards on both sides of a central room with a side hallway and a balcony.