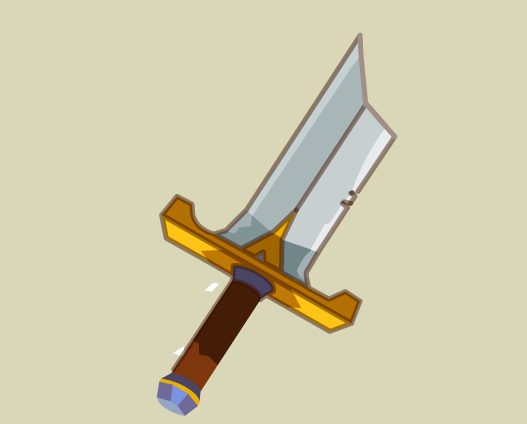 Broken Sword
The story of a sword that was, in fact, broken
George Stobbart is a pretty laid back chap who enjoys solving mysteries, drinking coffee in foreign cafes, demolishing priceless antiques in museums (by accident, of course), and is constantly under suspicion. There isn't anything that George enjoys more than a good old mystery solving quest! Although, to be honest, it's more like he's constantly on holiday for heaven's sake!
George has come across many life-threatening obstacles, such as really huge (microscopic) spiders, masses of shards of glass underneath his feet (he dropped a very small espresso cup), and mountains of bones (he's a big fan of chicken wings). This broken sword catastrophe was George's most life-threatening ordeal yet. Apparently, someone had tried to steal the sword from the stone (yes, we all know that Arthur pulled it out, but let's switch it up a bit) and instead had snapped it in half in the process and left it next to the rock. George, being the man of mystery solving, was the first to know. He grabbed his deep-pocketed trousers and ran for the trap door! (He spends his time in his basement because he likes to think he's some sort of Phantom of the Opera in a secret lair). 
Whilst on the train to London town, he found himself sitting next to Alice Liddell, who was planning on going back to the asylum there (just because she really, really liked straight jackets). She was curious in what George was getting up to, so she asked him and decided to join him in his quest. As they shook on it, Duke Nukem was just coming out of the train's lavatory and noticed the two looking mischievous, so decided to ask… He obviously ended up joining them, OBVIOUSLY!
As soon as they got off the train, Alice immediately attracted attention to the three of them by swinging her Hobby Horse about (which had been recently upgraded to maximum damage) and was generally causing chaos and panic on the streets of London. George took it off her after a while and told her to behave. Duke, however, had been sampling the alcoholic beverages on the train and was, to be honest, in no fit state and no use to anyone at this point in time. Still, they carried on. 
After many a stealthy (in broad daylight) and brave (they were all crying by the end of it) quest, they had all managed to rally up a team of suspects. Among these suspects were Master Chief, Commander Shepherd, Leon, Spyro (not sure what he was doing there), a couple of random giants, and George Stobbart (he was role-playing because he likes to feel in peril). There was no evidence that any of these had broken the sword, so they were let go.
Long story short.. George ended up calling Dovahkiin (via dragon, of course), who came along and smashed up that old rock and retrieved the other piece of it. Duke had sobered up by this point and went at gluing the sword back together, as they were too tired (lazy) to go and have it mended properly. It amazingly still functioned though, and now sits in George's freezer.. Odd place, I know, but he likes the dry ice that surrounds it when he opens the freezer door. Makes it look important apparently.