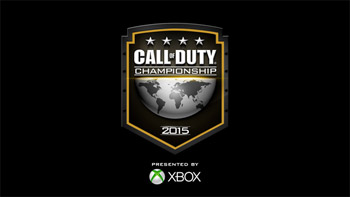 Call of Duty Championships 2015
$1 Million is up for grabs! Darn.. I should have entered..
Yesterday, Activision announced their plans for the 2015 Call of Duty Championships, which will see the best of the best of 'Call of Duty: Advanced Warfare' players battle it out for $1 Million in prizes.
The championships will be held from 27th – 29th March in Los Angeles. A grand total of 32 teams from around the world will compete for that all important title "World Champions", as well as the $1 Million total tournament purse. This year, the event will be sponsored by, in part, Microsoft/Xbox and Major League Gaming.
"We developed Advanced Warfare with the competitive community in mind, and we can't wait for the top talent from around the world to compete in the Call of Duty Championships," Sledgehammer co-founder Glen Schofield proclaimed  in a statement.
The qualifying events are to be held through Xbox One online, whilst the actual final match championship will be broadcast LIVE on Xbox One Live and other networks. To "boost eSports to new heights" is what Activision is aiming for this year with the championships.
The championships are open to anyone at all; whether you're a hardcore professional or have just recently started out. For more information on all of this; head to the Major League Gaming website.
You can check out the official Call of Duty Championships 2015 trailer HERE…