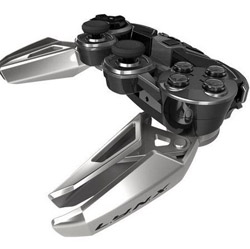 REVEALED!
A £250 Transforming Game Controller! Oh my…
"Designed for the passionate gamer who typically plays across multiple devices, the L.Y.N.X.features a patent-pending design which allows it to fold into a compact footprint, fitting into a shirt pocket for travel without compromising on the classic console-style ergonomic feel gamers are accustomed to," Mad Catz said in a statement.
This statement has come from the peripheral company Mad Catz. They, yesterday, announced a hybrid controller called L.Y.N.X, which has been described as "radically different". It is also said to have been designed for "uncompromised control and portability." 
 The L.Y.N.X. has three primary components: Left Wing, Right Wing, and Controller Brain. The controller works with your existing smartphone, and can even break apart and attach to a tablet of up to seven inches. What's more, this incredible piece is also well suited as a companion for Smart TVs, seeing as it is also equipped with a QWERTY keyboard module that lets you type. "We believe the L.Y.N.X. represents a generational leap in mobile game controllers," Mad Catz president and CEO Darren Richardson said.
There is one more thing… The controller also features a built-in microphone which lets you search by voice and has been rated to one million button presses!! The L.Y.N.X is listed for sale on the Mad Catz Website but hold your horses!.. You can't buy the item just yet, but it is expected to start shipping in March this year. Take a look at some of the shots of this marvel below..