The latest season of Call of Duty is coming very soon. Treyarch announced that the Call of Duty: Black Ops Cold War and Call of Duty: Warzone season 2 are being released on February 25th. The announcement came attached with a trailer that showed off the impressive arsenal of weapons coming to the game.
It's a jungle out there. Let's get a little WILD.

The cavalry arrives in Season Two of #BlackOpsColdWar on February 25. pic.twitter.com/dp6FzkJj5P

— Call of Duty ⚠️ (@CallofDuty) February 16, 2021
The trailer portrays a squad of soldiers flying through the Laos jungle in a helicopter, with the aim of locating someone named Naga. Subsequently Naga is revealed to be a villain working to obtain a shipment of Nova 6, which is intended to be sent to Verdansk.  Towards the end of the trailer, Naga escapes and the team of soldiers must search for him on foot.
It seems the soldiers in the helicopter are the Operators that players can choose from, aiding them on their gaming journey. The telling trailer also reveals the big collection of weapons that are included in the game.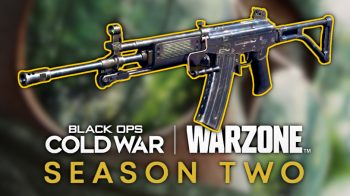 The Operators are seen to be carrying the new weapons as they exit the helicopter. The first new weapon revealed is a crossbow which one soldier is carrying, with another soldier holding what seems to be a Galil. Following this more soldiers hop out of the helicopter carrying new weapons, which are slightly unrecognisable, with the last Operator holding a minigun.
While it is not confirmed whether these weapons will make it into the game, we should learn more when Treyarch reveal more about the upcoming season 2.