What players can expect regarding the story mode and characters from Demon Slayer: The Hinokami Chronicles…
It was only last week that SEGA announced Demon Slayer: The HInokami Chronicles would be getting a Western release, now new details emerge about what we can expect in the gameplay and if done well, it could become another hit for the Demon Slayer franchise.
Demon Slayer: The Hinokami Chronicles
Based on the widely popular and record-breaking manga and anime TV series Demon Slayer: Kimestu No Yaiba and developed by CyberConnect2, the upcoming fighting game will feature main characters battling it out in 3D arena environments set in the series' Taisho Period of Japan. It is said to take inspiration from the developer's other successful series, Naruto Shippuden: Ultimate Ninja, by featuring both a story mode and a versus mode.
Very few details had been released so far, yet now Xbox has now outlined what story arcs and characters you can expect when playing the game in this new story trailer.
Story Mode and Characters
Demon Slayer: The HInokami Chronicles is going to draw from not one, but two Demon Slayer arcs, specifically "Tanjiro Kamado, Unwavering Resolve" and "Mugen Train" (everything that has been released in animated form so far). We will see protagonist Tanjiro meet many unique characters on his quest to restore his sister Nezuko's humanity, with 18 of them being playable characters.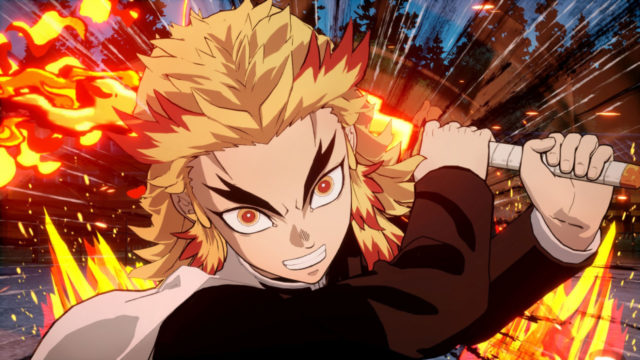 The exciting part of this reveal is several of these characters will be members of the Hashira, the highest group in the Demon Slayer Corporation. For those who are unaware, each Hashira practices a different "breathing style" that helps them in combat situations- a feature that will hopefully be animated well in the game. The three members of Hashira that have been announced for Demon Slayer: The Hinokami Chronicles so far are Giyu Tomioka, Shinobu Kocho, and Kyojuro Rengoku (pictured). These members can control Water, Insect and Flame breathing techniques.
Tanjiro's breathing style "Hinokami Kagura" is said to also be a feature in the game, however, it is uncertain it will be as powerful as it is in manga and anime, to make gameplay more balanced out.
When to Expect Demon Slayer: The Hinokami Chronicles
Demon Slayer: The Hinokami Chronicles is set to be released in North America and Europe on October 15 2021, available on PC, PS4, PS5, Xbox One, and Xbox Series X/S. There will also be a Digital Deluxe Edition of Hinokami Chronicles, which will give PC and PS users 8,000 "slayer points," 3 Butterfly Mansion skins, 12 character avatars for players on PS4, PS5, or Steam, 4 keys to unlock new characters and a custom PS4 theme.
It will be interesting to see how the game plays out but for now, fans will have to anticipatingly wait for October 15.
Sign up for our newsletter from the website.
Instagram: Go2GamesShop
Twitter: Go2Games
Youtube: Go2Games.com
Facebook: Go2Games.com