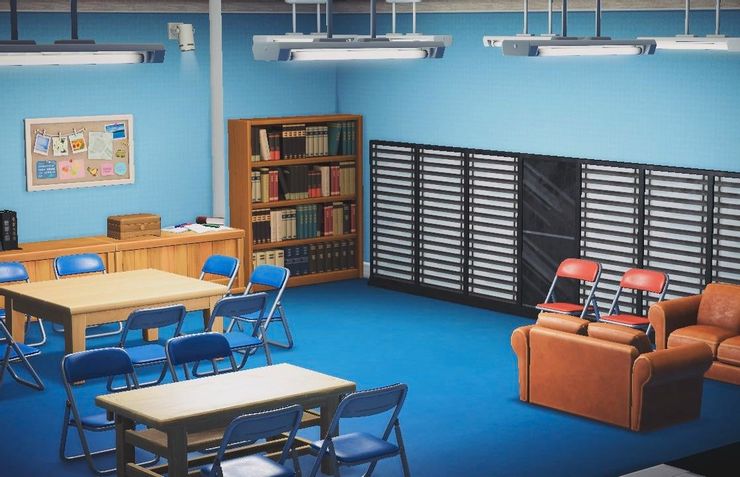 The creativity and dedication of Animal Crossing Fans never ceases to amaze.
Animal Crossing: New Horizons is, at its heart, a game of creation. Many dedicated fans set to the challenge of recreating favourite characters outfits (including me, I've made the iconic Free! Iwatobi uniforms, and the Survey Corps too) and memorable series locations.
One fan has recreated the iconic Community study room in Animal Crossing form.
The creator, Redditor b3llakat3, shared their work to r/AnimalCrossing. Simply titled 'Study Room F', the New Horizons Redditors recognised the inspiration immediately.
The study room was often the spring-point for each episode of the comedy series, where Troy, Abed, Jeff, Annie, Pierce, Britta, and Shirley would meet for a study session that usually ended in some comedic shambles. The room was pretty nondescript, reflective of a token study room in any college, making it easy to accurately recreate with regular wooden yellow tables, a handful of folding chairs, and a few couches. However, the attention to detail with the counters, bookshelves, carpeting and the shades on the doors and windows really makes this room feel like not just any study room, but Study Room F.
It's a very faithful recreation of the Study Room, and several comments even say they thought they were in r/Community when they came across it. Others were responding with their favourite jokes from the show. Some even shared their own Community-inspired creations.
Community, which ran from 2009 to 2015, remains an iconic sitcom of the age – and is entirely bingeable on Netflix.
If anything is missing from the room, it's the series characters themselves. With a bit of help from some friends, you can bring all your favourite characters to your island. Thanks to near-endless outfit customisation, you can bring almost any character to life in Animal Crossing.
Check out our Animal Crossing goodies in store!
Sign up for our newsletter from the website.
Instagram: Go2GamesShop
Twitter: Go2Games
Youtube: Go2Games.com
Facebook: Go2Games.com
Store: Go2Games.com