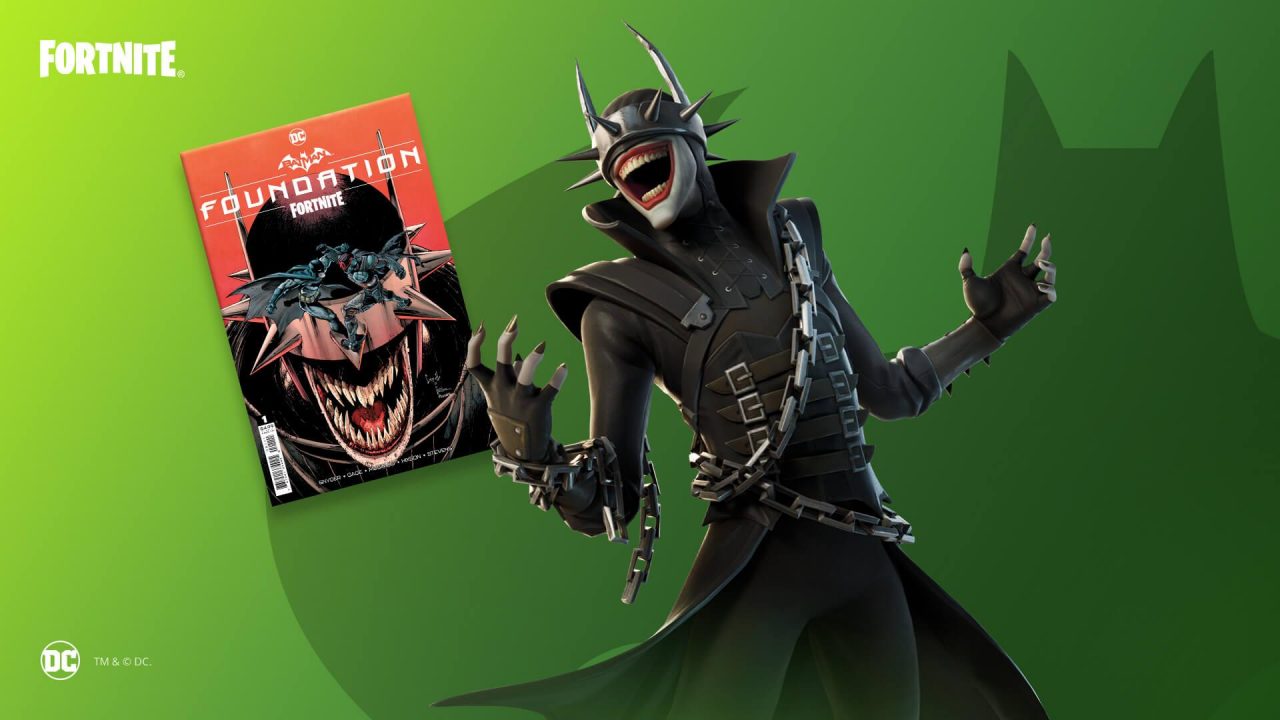 A brand new DC Comics crossover skin, The Batman Who Laughs, comes to Fortnite with Halloween just around the corner
The smash-hit battle royale Fortnite is no stranger to striking crossover skins: from Street Fighter's Chun Li to Rick and Morty's Rick Sanchez. Now, Epic Games and DC Comics are teaming up to bring Fortnite a brand new playable skin based on a character from one of DC's darkest storylines, The Batman Who Laughs.
While DC characters are no strangers to Fortnite, the game and Batman have crossed over a few times already. It started for Batman Day with the debut of the Dark Knight movie skin and was followed by the comic accurate Batman skin, a Catwoman skin, and a loading screen. This was only the beginning as many other DC characters have joined since then. The Batman Who Laughs skin joins the game to celebrate the launch of the latest Batman/Fortnite crossover comic, Foundation, that fans can find in their local comic shops or on digital markets.
There are many ways which someone can  Anyone who picks up the Foundation comic will receive a redeemable code to get the skin for free. It is also available to purchase in the Fortnite Item Shop for 1,500 V-Bucks. There are some further cosmetics available either separately or in a bundle. Fans can get the Wings of Madness glider or the Death Metal Scythe for 800 V-Bucks each. If players are after all the new DC-inspired products then they can purchase them for 2,200 V-Bucks, which has Robin's Perch back bling thrown in.
The story of The Batman Who Laughs within the comics are of Batman of Earth-22. However, after a violent and lengthy confrontation with The Joker, Bruce ultimately snaps after becoming infected with Joker Venom. Being both Batman and the Joker, his reign of terror borders on some of the darkest scenes ever to appear in DC Comics' pages. Ultimately, The Batman Who Laughs wreaks havoc throughout the DC Multiverse.
One reason why fans may want to grab the new Batman/Fortnite: Foundation #1 is that this will be canon in the Fortnite universe. This comic book shows players what happened with the Foundation following his appearance a few seasons back. Somehow, he's washed up in Gotham Harbor and he appears to fight with Batman once he arrives there.
The "Batman Who Laughs" skin, perfect for the Halloween season, will remain available in the Fortnite store for a limited time.
If you enjoyed this, keep up with all the latest gaming news, competitions, future discounts and amazing content.
Twitter: @Go2Games
Instagram: @go2gamesshop
Youtube: Go2games.com
Facebook: Go2games.com
You can subscribe to the Go2Games newsletters via the website.