With most aspects of gaming being improved constantly a bad aspect of gaming is the lengthy loading times. Despite gaining its highest player base ever last year Grand Theft Auto has one of the worst loading times.
With many games having fast loading time the PlayStation 5's Spider-Man: Miles Morales has been noted for loading very fast, not taking a few minutes to access each level. GTA contradicts Spider-Man's speedy loading time with one gamer determined to find out why.
The Reddit user who goes by simspelaaja decided if GTA Online developer Rockstar were not going to resolve the issue they would have to it themselves. The Reddit user came to the conclusion that the long loading times had to be down to poor coding. They wrote 'GTA decides to max out a single core on my machine for four minutes and do nothing else,' adding, "What, is it mining crypto or something? I smell code. Really bad code'.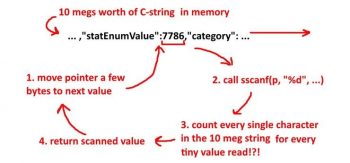 Upon looking further they found that the problem comes from a 10mb JSON formatted catalogue which lists the in-game items available to purchase in GTA Online. The Reddit user found per every few bytes of data every character in the 10mb string is read repeatedly. Another problem is that the system checks for every  The second problem occurs when the system checks for every possibility of an item, from a list of around 63 thousand entries. This makes GTA's loading time very lengthy and is clear why it takes very long to load.
However simspelaaja was keen to fix the issue by writing a.dll file as well as correcting the JSON coding issue and has now optimised his system. With the problems fixed their loading time decreased dramatically from six minutes to one minute and fifty seconds. The user encourages other fans to do the same stating it shouldn't take more than a day to follow his handiwork.
GTA Online is available now for PC, PS4, and Xbox One, with PS5 and Xbox Series X in development.