Fans, upset at the lack of anniversary rewards and ongoing silence from miHoYo, take to flooding the Google Play store with negative reviews
Yesterday marked the anniversary for the release of miHoYo's hit free-to-play gacha game, Genshin Impact.
The day was… anti-climatic, to say the least. I did enjoy the anniversary 'theatre' web event, which gives you a rundown of your stats for the year and is complete with some adorable chibi-style art. But when all was said and done, the rewards for the day amounted to a measly few primos and one intertwined fate. It seems like we're set to be rewarded for a year of dedication with a meagre 10 wishes.
Whales and F2P players alike are pretty ticked off by the situation, and miHoYo's continued silence and censorship of the complaints has only served to further aggravate the player base. On the official Genshin Discord server, slowmode restrictions have been increased to combat the players spamming an emote of a rather forlorn-looking Qiqi:
Pretty much every tweet on the official Genshin twitter is being bombarded with complaints, and there has been a huge drop in the success of the Like to Dislike ratio on the latest Genshin YouTube video.
Perhaps the most surprising, and amusing, part of all this is the review-bombing on the Google Play store for the Genshin app.
Genshin Impact review score dropped to 1.9 on the play store#GenshinImpact #原神 pic.twitter.com/gkkqfMEgYw

— Genshin Impact Memes (@Genshinmem) September 28, 2021
The game had been maintaining a very respectable 4 star rating up until the anniversary debacle. Another game by miHoYo, Honkai Impact, has also been the target of review-bombing as a result of dissatisfaction with miHoYo, and has taken a bit of a dip in its overall ratings.
The genshin impact anniversary is a disaster lmao

— Mutahar (@OrdinaryGamers) September 29, 2021
Players' irritation only grew when miHoYo launched an expensive #hashflag marketing campaign on Twitter
If you don't know what hashflags are, they're a Twitter campaign that allows for a small emote to appear next to a hashtag, and we can only estimate that they cost a pretty penny.
https://twitter.com/caepricOrn_01/status/1442836514803576845?s=20
As cute as these hashtags are (#littlewolfie for Razor?! #bennysadventureteam!!? So cute!!) they do seem to be a bit of an egregious waste of money. Many fans are questioning how miHoYo has the money to spare for this expensive campaign, but can't spare us some primos for the anniversary.
I do understand the frustration, but I find it really hard to stay angry at this campaign when I can add little Benny emotes to my tweets now.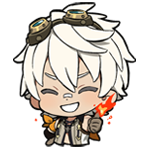 He's just too adorable. MiHoYo control my one weakness, unfortunately.
In all seriousness, it's pretty sad that after so much success and acclaim, miHoYo would mess up the anniversary so spectacularly. This probably won't affect them in the long run, as Genshin is geared to it's mostly casual player base. But the hardcore fans, the content creators, the people who created the buzz that let Genshin rocket to success, will always have a sour memory of the first anniversary of the game they have poured so much heart into supporting.
It's not about the money or the primos – it's about appreciation. The rewards didn't even have to be primos; some new skins, a special rerun, or a free selectable 4 star would have brightened up the day a bit. Instead, I'm left with a vague sense of disappointment.
Happy anniversary, Genshiners.
Sign up for our newsletter from the website.
Instagram: Go2GamesShop
Twitter: Go2Games
Youtube: Go2Games.com
Facebook: Go2Games.com
Store: Go2Games.com
Before you go: check out this month's discount codes
CODES EXPIRE ON THE 4TH OCTOBER 2021
Use code BORNE10 – For 10% off Bloodborne- Game of the Year (PS4)
Use code DAYSGONE10 – For 10% off Days Gone (PS4)
Use code ALLSTAR5 – For 5% off Super Mario 3D All-Stars (Nintendo Switch)
Use code POWER10 – For 10% off Ben 10: Power Trip (Xbox One/Xbox Series X)