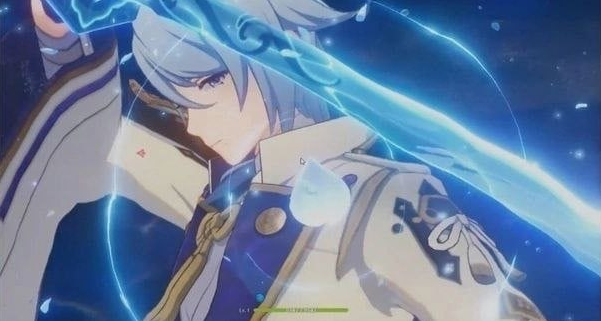 Trusted leaker Ubatcha1 has revealed the particle regeneration for Ayato's skill
It's been a while since the official Genshin Impact Twitter shared Ayato's drip marketing, meaning he will be joining us in Genshin 2.6.
"The game of politics is fraught with peril. My Lord does not take any joy in these 'battles.' For him, it's just… a matter of duty" — Thoma

◆ Kamisato Ayato ‧ Pillar of Fortitude
◆ Head of the Kamisato Clan
◆ Hydro
◆ Cypressus Custos#GenshinImpact pic.twitter.com/IFLNmM7PHl

— Genshin Impact (@GenshinImpact) February 4, 2022
Since then, the Ayato hype has ramped up even more. Leaks of his model and animations drummed up excitement as well, and now everyone wants to know the details of his kit.
Each of Ayato's skill attacks will produce an elemental particle every 1.6 seconds.
[2.6 Beta] Ayato Energy Regen Update

As of .51 (the most recent update)

His Shunsuiken attacks are guaranteed to generate 1 hydro energy particle (1.9s cooldown). On top of this, they have a 50% chance of generating a second hydro energy particle (also 1.9s cooldown) (1/2) https://t.co/UQkcNy1Ytj

— UBatcha (@Ubatcha1) February 22, 2022
This has been disappointing to many players, who feel that every Inazuman character has energy issues and needs to be paired with the Raiden Shogun. It's a little frustrating, especially if you're not really interested in the character and don't want to be forced to use her in order to make characters you like work.
However, Ayato's passive has since been switched to one supporting energy regeneration.
[2.6 Beta] Ayato Passive Change

Changed from
Kamisato Art: Suiyuu's DMG is increased based on 3% of Ayato's Max HP.

To
If Ayato is not on the field and his Energy is less than 40, he will regenerate 2 energy for himself every second. pic.twitter.com/RwSP2QjQnY

— UBatcha (@Ubatcha1) February 28, 2022
This may alleviate some energy problems. You may also want to use another hydro battery, or the electro traveller to provide energy.
We won't know for sure until he's released, but hopefully he won't be another botched kit situation, completely dependent on other units.
I'll still probably pull for him tho. Did you see his bubble tea animation?
Genshin Impact is available to download and play for free on PC, mobile, and PS4, as well as the PS5. If you haven't been able to get your hands on the new PlayStation console, register your interest at our shop.
5% off SureFire products using code SUREFIRE5 – https://www.go2games.com/surefire-offer
Sign up for our newsletter from the website.
Instagram: Go2GamesShop
Twitter: Go2Games
Youtube: Go2Games.com
Facebook: Go2Games.com
Store: Go2Games.com