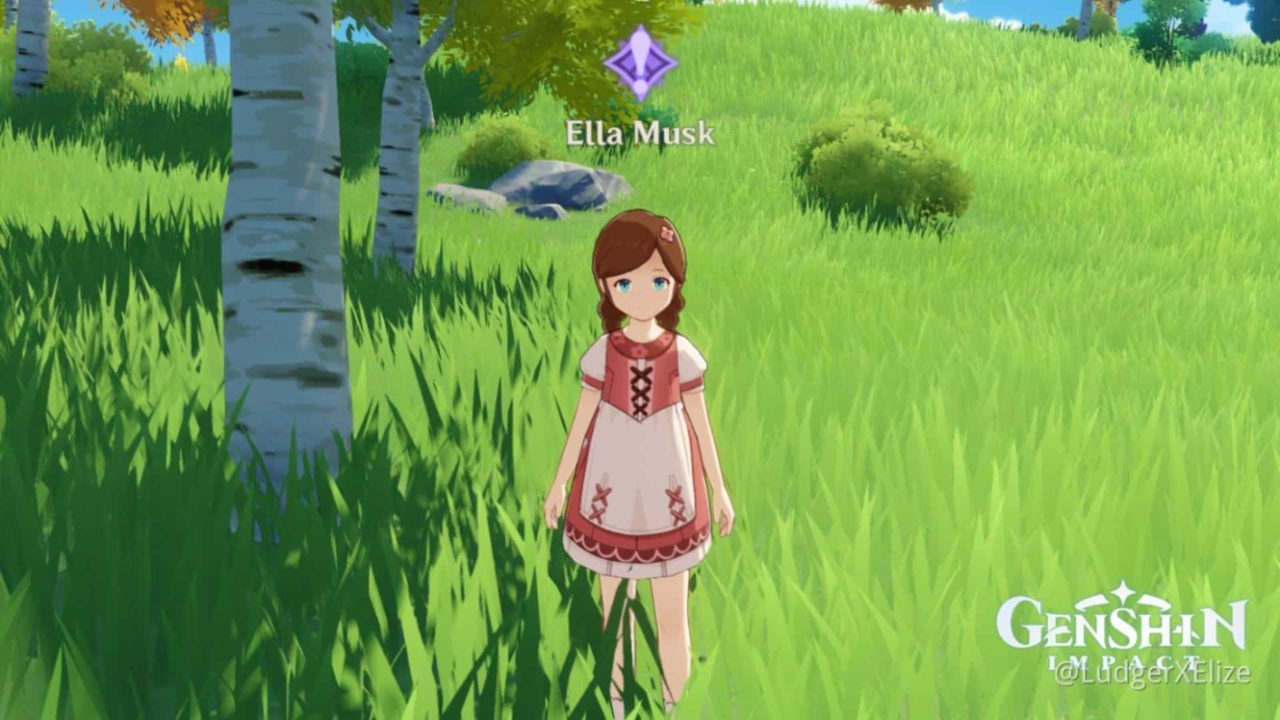 The weird PR stunt flops spectacularly, prompting staff to quickly delete the tweet.
The official Genshin Impact Twitter account announced a community challenge to celebrate hitting 2 million followers.
The challenge directed fans to follow another account, named 'Ella Musk' after the NPC in Genshin, who tries to communicate with hilichurls. Different 'rewards' (heavy on the quotation marks here) would be unlocked at different follower counts.
The official account, usually named Paimon after the traveller's beloved companion, changed its display name to Genshin Impact. The first reward tier, unlocked at 500,000 followers, would see the name return to its original state. At one million followers, the official account would follow Elon Musk on Twitter. At three million, Musk would be invited to stream the game. Lastly, at five million followers, Musk would be invited to visit the MiHoYo headquarters.
The Paimon2TheMoon account has been around since August and currently has 62k followers. The account isn't particularly active, so I have no idea what possessed the PR team to think this was a good idea.
The Elon Musk-related rewards only have value if you REALLY like Elon Musk, and even then, you probably don't care about whether or not he interacts with Genshin Impact.
Not to mention, Musk (like any billionaire) is a somewhat controversial figure: some portion of the fanbase probably dislike him – meaning the 'rewards' are more like a deterrent.
Musk himself seemed to find the situation amusing, leading to this surreal tweet.
Can't wait to be in Genshin Impact 🤣

— Elon Musk (@elonmusk) October 14, 2021
The whole thing feels like a fever dream. After considerable backlash, the Genshin Impact official Twitter deleted the challenge, but fans are still revelling in the absurdity of it all.
It's not as if I can (nor do I want to) police what content Musk enjoys, but I always find it jarring when he shows interest in my favourite anime and games. I know I'm not the only one, as the quotes of this tweet show a lot of fans expressing pure discomfort.
It never stops feeling weird when the literal richest man on Earth likes the same anime as you. I think it's some sort of social dissonance because generally, I can relate to anime fans more than others, but I can't quite relate to someone who has a net worth of 198B USD. It's a strange reflection of society, and if I think about it too hard my head will hurt.
Sign up for our newsletter from the website.
Instagram: Go2GamesShop
Twitter: Go2Games
Youtube: Go2Games.com
Facebook: Go2Games.com
Store: Go2Games.com
Before you go: grab these voucher codes for use at Go2Games!
These offers end on October 18th
Use HARVEST5 for 5% off Monster Harvest!
Use WRC10 for 10% off WRC10 on all platforms!