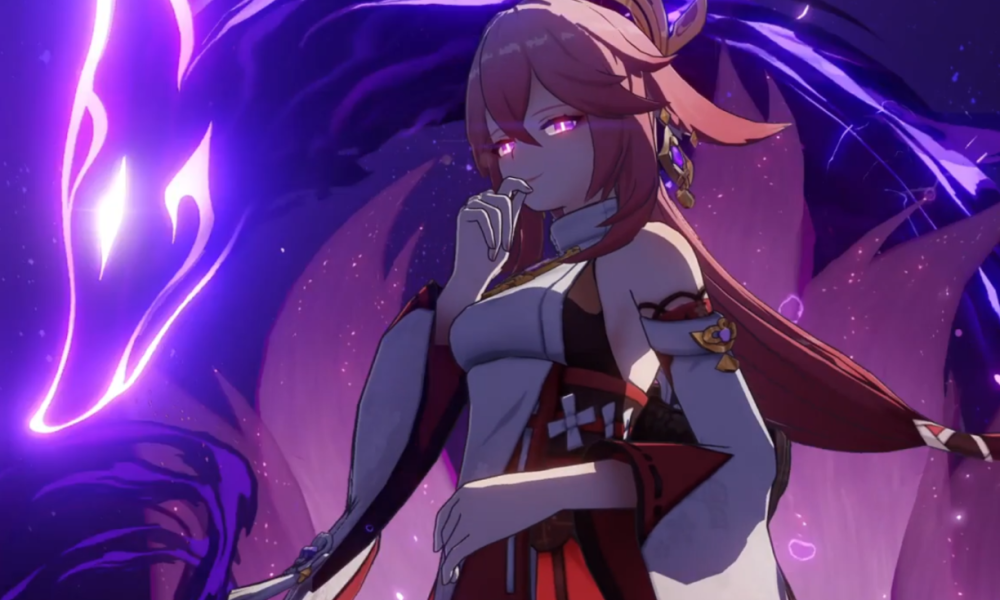 The long-anticipated Yae Miko is almost here, but the burning question remains – is she worth the primogems?
Yae Miko's character demo was revealed this morning, with less than a day until her banner goes up. She is one of the most hyped characters in Genshin history – but that doesn't mean her kit will be any more amazing.
We've talked about how expensive the characters in Genshin Impact can be before. You need 180 wishes to 100% guarantee obtaining the on-banner five star, which costs over £270. My total expenditure on Genshin is getting kinda embarrassing too. Anyway, this means you need to consider carefully before you dump your primogems on any specific character.
Of course, as the ancient scripture reads, waifu over meta. If you absolutely love Yae Miko's design, personality, and lore – definitely go for it!
But the more meta-oriented players may be wondering how much bang she gives for your buck, if you will. There's a limit to how much information is available to us pre-release. Still, this analysis serves to convince you not to immediately throw all your primos into the gacha system on the very first day. Unless you really want to, of course. I'm not gonna stop you. Yae Miko is gorgeous.
Whether or not Yae Miko is worth it for your account really depends on the state of our account currently.
Do you have the Raiden Shogun?
If yes, there's a good chance you might want to acquire Yae Miko – as she will have great synergy with her girlfriend Shogun.
If you don't have Ei in your roster, you probably won't want to pull Yae Miko. I recommend waiting for Raiden's rerun in the second half of the update. Obviously, if you're primo rich (or just rich rich…), you could pull them both.
Why is Yae so dependent on Raiden, you ask? Well, in part due to her 90 energy cost elemental burst. Her high burst cost benefits Raiden's damage, while Raiden helps funnel her energy. You could potentially build a mono-electro team, and I'm pretty excited to see how that would turn out.
Yae Miko is a Sub-DPS who does damage over time with 3 totems she places on-field and has a hefty burst. Because they're both electro Sub-DPS characters, she's faced a lot of comparison to Fischl. I wrote on this before, comparing C6 Fischl and C0 Yae Miko's damage. Back then, we had no idea that Fischl would be FEATURED on Yae's banner, but we also knew even less about Yae. Yae does have the advantage of doing some AoE damage, while Fischl's Oz can only do single target damage. However, Fischl takes significantly less field time and is lower-investment with consistent electro application that can be utilised by characters like Childe in electro-charged comps, or for superconducts for Eula on.
However (so many howevers), Yae Miko looks to be a strong burst nuke character – unlike Fischl, who is more focused on sustained skill damage. Yae Miko's value may simply come down to how high her damage multipliers are. If she has an INSANE nuke burst, that's obviously pretty useful since being able to snapshot buffs and do a lot of damage in a very short window is highly valuable in the spiral abyss.
Speaking of: your spiral abyss team could feature Yae Miko, Raiden Shogun, Kujou Sara (preferably with high constellations), and …. Kazuha.
This team makes me VERY uncomfortable, lore-wise. Poor Kazuha. (If you know, you know. If you don't know, I won't spoil. Although if you're not an endgame player, this article may not be the most useful to you anyway.)
But anyway. This team would free up Bennett for the other side of the abyss, which is a pretty big advantage since he is basically the God of Genshin Impact, the most valuable character in the game, and most importantly – he is my son. If necessary, you could also replace Kazuha with Sucrose or even Venti in this team. Anemo Traveller could also work. Kazuha will offer the most damage output, but having anyone carry the Viridescent artefact set and buff electro is very valuable for this team.
In short: you don't need Yae Miko to play Raiden, but you do kind of need Raiden to play Yae Miko. Think of Yae Miko as a luxury Sub-DPS, similar to Shenhe. You don't NEED her. But if you're going to make her work, she will work well for you.
And don't forget – this is a pre-release analysis. So we'll see Yae's actual value when those damage calculations come in.
If you're already set on pulling – best of luck! Happy Genshin-ing.
Genshin Impact is available to download and play for free on PC, mobile, and PS4, as well as the PS5. If you haven't been able to get your hands on the new PlayStation console, register your interest at our shop.
Sign up for our newsletter from the website.
Instagram: Go2GamesShop
Twitter: Go2Games
Youtube: Go2Games.com
Facebook: Go2Games.com
Store: Go2Games.com