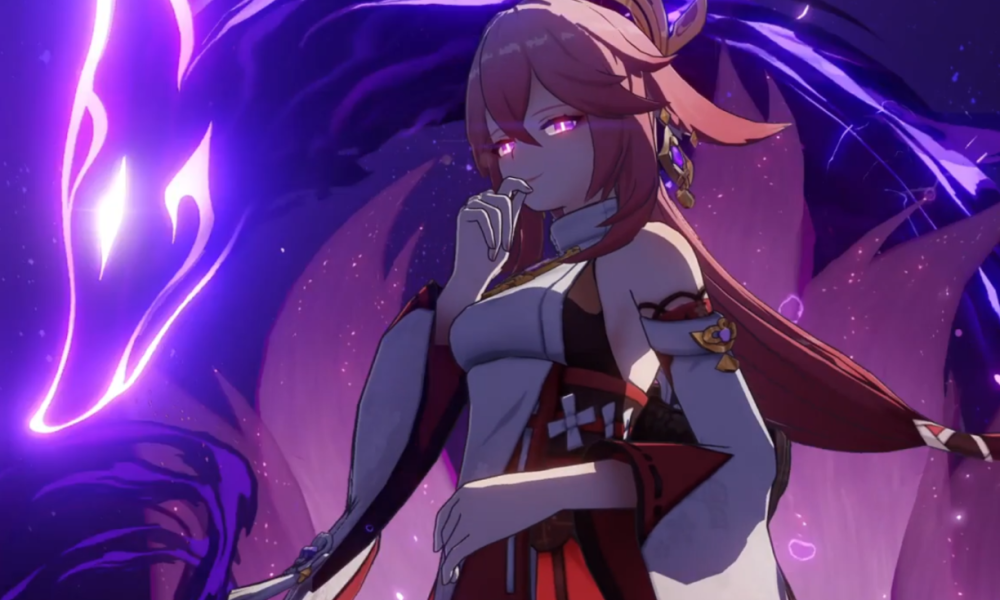 With so much hype surrounding the Kitsune, disappointment may be difficult to avoid.
It hasn't been long since drip marketing was released for Yae Miko, who is confirmed to be joining us in Genshin Impact 2.5. With the beta up and running, leaks are now giving us a pretty complete picture of her kit.
Yae Miko ‧ Astute Amusement
Guuji of the Grand Narukami Shrine

The Grand Narukami Shrine's head shrine maiden and a descendant of Kitsune lineage, Eternity's servant and friend… and the intimidating editor-in-chief of Yae Publishing House, a publisher of light novels. pic.twitter.com/xgMxeQrTnp

— Genshin Impact (@GenshinImpact) December 31, 2021
One Redditor put together a comparison of Yae's damage with c6 Fischl. Although many players will not have C6 Fischl, she is available through the Starglitter shop meaning you can get her eventually if you plan for it. She hasn't been on a banner in quite a while, but as it happens she was on Albedo's first run and Childe's second run – so I do have her C6 myself.
As you can see, Fischl has a stronger skill, which also allows for snapshotting. This means you can easily put buffs on your Fischl and they will last throughout the whole duration of her skill (here called E in reference to keyboard position). Not only that, but Fischl has better energy generation. Her ultimate/burst is not as powerful as Yae's, but the total damage is still higher than Fischl. Essentially, Fischl has more utility overall.
Obviously, Yae's kit is in beta right now, so we won't know her true capabilities for sure until she launches. But this may be something to consider if you have an unbuilt C6 Fischl waiting to shine.
Genshin Impact is available to download and play for free on PC, mobile, and PS4, as well as the PS5. If you haven't been able to get your hands on the new PlayStation console, register your interest at our shop.
Sign up for our newsletter from the website.
Instagram: Go2GamesShop
Twitter: Go2Games
Youtube: Go2Games.com
Facebook: Go2Games.com
Store: Go2Games.com