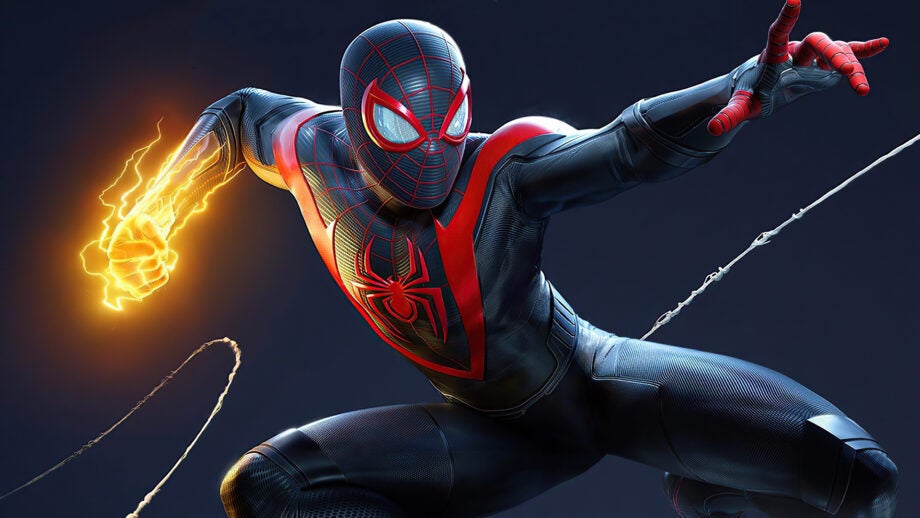 Spider-Man, Spider-Man, outselling games, because he can. Launching with the PS5 back in 2020, Spider-Man Miles Morales gave us an all new Spidey adventure taking place in the same universe as PS4's Marvel's Spider-Man. One year on, and it looks like the game hasn't lost any momentum, as it continues to dominate the PlayStation Store in December 2021.
Every retailer knows that December is probably one of the most important times of the year. Company's look to regain their losses or perhaps get a kickstart into the new year. This is no different in the gaming world, with gamers looking to catch up on all the new games during the holiday period. Therefore, we see huge discounts in the PlayStation store to help boost sales numbers. This year, we saw Miles Morales and Vanguard in PlayStation's December holiday sale which has been running since December 23 and is set to end on January 19.
Unfortunately, neither game is currently discounted anymore. However, Sony did reveal the top-selling games on the PlayStation Store, which has led to a few shocked faces. Usually, the Call Of Duty games dominate the leader boards however this year Miles Morales was the on top in the US/Canada version of the list. Luckily for COD fans, they weren't beaten in the EU count. Check out both top five lists for the PS5 down below: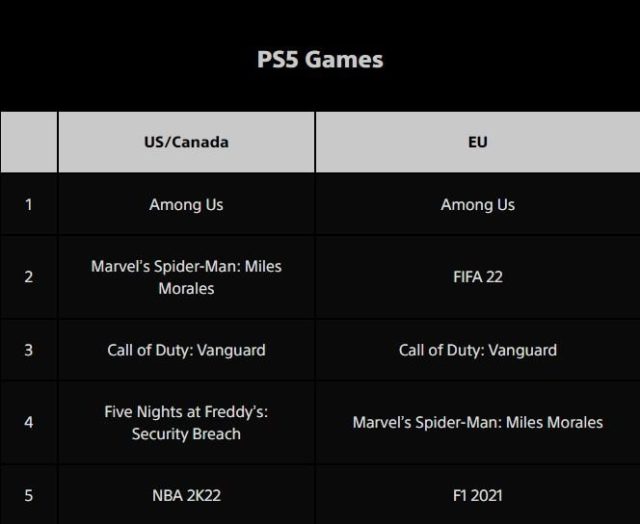 For quite some time, Miles Morales has been doing well in terms of sales for PlayStation. Earlier in 2021, a graph was revealed which showed Spider-Man: Miles Morales had already outsold The Last of Us 2, Ghost of Tsushima, and many more despite it releasing at a much later date. On the other hand, Vanguard was doing well too based on 2021's standards. However, in comparison with previous COD titles, it lets itself down massively.
As shown above, Among Us beat out both of them in the EU and US/Canada, with content communications manager at Sony, Justin Massongill, writing "The hidden identity chaos of Among Us takes top prize for December across regions and PS4/PS5." That's an incredible achievement for a game which hasn't been out for too long either and makes it debut on the console.
What could be the reason to Miles Morales popularity? Firstly, it shouldn't be understated how much people love the Insomniac Games' Spider-Man series.The game is so much more popular than other Spider-Man iterations, and we certainly can't get enough of it. Secondly, well it probably helped that  Spider-Man: No Way Home, arguably the biggest Spider-Man movie ever made, released in December too. The film itself even took some inspiration from Insomniacs titles!
If you want to get your hands on Miles Morales, head on over to our store right away!
Don't forget to follow us on all our social media and subscribe to our Youtube channel and newsletter.
Instagram: Go2GamesShop
Twitter: Go2Games
Youtube: Go2Games.com
Facebook: Go2Games.com
Store: Go2Games.com