It's coming. The next game to ruin friendships. In not just one world but two.
Don't be surprised if your friend plants pitfalls all over your island after losing at a game of Animal Crossing New Horizons Monopoly, expect them to send you trash in the post or chop down some of your trees and run through your beautifully constructed blue and golf rose garden. That's right…Hasbro is releasing this game in August. It is one of the best and perhaps the worst things to be announced for humanity (I still want one though). I also aim to be quick once it comes out, need I remind you of what happened when Build-A-Bear released their Tom Nook and Isabelle items? They were sold out immediately, don't you just feel bad for the kids? No? Okay then. Well, make sure all hands are on deck for this one.
The counters model
The counters look very Animal Crossing type of realistic, they all seem to be villagers and unfortunately, none for any of the loveable villager NPC's or the special NPC's like Tom Nook, otherwise event NPC's. They still look amazing though, almost like having your own villager action figure or Amiibo. Unlike the old Monopoly games, I'm talking early 2000's, when they had 6 counters available, it would have been nice to see them make a selection as wide as that in the least. However, I am more than sure that Etsy will cook something up for this and have animal villagers and special NPC Monopoly counters all over the place.
The Monopoly Board
Sorry, not that one. I mean this one…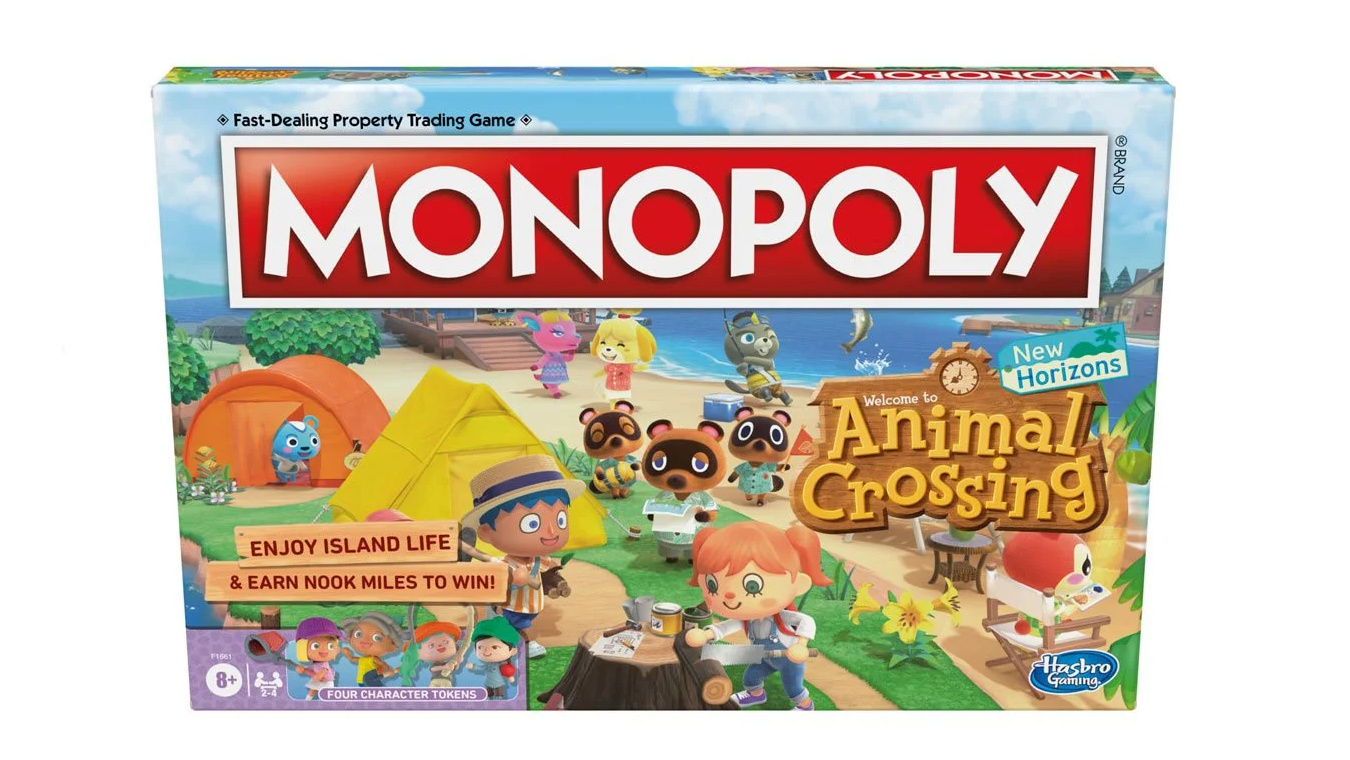 There we go, a nice close look at the board itself. Now considering a lot of us are used to traditional Monopoly, at first I wondered how this one would play out. There are Nookmiles, furniture, fruit, fish and bugs counters. What were these for? I am one for the traditional Monopoly, so if it has changed since then…someone let me know. As far as I'm concerned all you needed is money, a pencil, a piece of paper, the Monopoly cash, one counter and the two decks of cards that come with the game. So all these extra bits that come with this board are a surprise to me.
I wondered where the bells are, as they are nowhere to be seen. Will we experience what we have done in the game? Collect fruit, bugs, furniture and fish to sell to Tom Nook in order to win? (That racoon never knows when to stop). Perhaps we need to pay off our loans in this version of Monopoly before we can begin to earn our own amount. The jail still exists so that's nice to know, Copper and Booker are sure going to have their hands full. Overall, I wanted to know how this will function as a Monopoly game.
Well, here's how it will be played
So instead of earning the most money. Your aim is to earn the most Nookmiles. Of course, you'll start off with two to four players. Instead of doing the usual buying property and paying the rent, just like traditional Animal Crossing gameplay, you will have to collect bugs, fish, insects, fossils and fruit; and as we all should know, in Animal Crossing New Horizons you are rewarded for doing those daily tasks with Nookmiles. There will also be skill cards, chance cards, decoration cards, Nook Miles cards, Bell coins, Resource chips and two dice. There will be the normal dice and a Nook's Cranny's dice.
You can pick up the skill card after you've made one trip around the board, (just like purchasing a property needs one trip around the board in traditional Monopoly) and that allows you to keep that skill throughout the entire game. You'll also be able to stop at Nook's Cranny to purchase items using the Bells you receive at the start of the game. The decorations earn you Nook Miles, so don't be too picky.
That's all! If you earn the most Nook Miles you win! Though many might question why it's Nook Miles and not bells…well, that answer is simple. Tom Nook is slowly and very carefully aiming for world domination, he's got Hasbro on his side and wants to get us into a world of debt.
Where to Purchase this?
It's available for Pre-Order from International Entertainment for approximately £18.07 plus £23.11 shipping. (It's a heavy price for one Monopoly game, but will you take your chances?) After my face turned a little pale at the price, I decided I'll put some money aside for August. What about you?
At least Animal Crossing New Horizon players don't have to continue to create their online Monopoly maps anymore. They can just use this one as a Model and use 'real' in-game items to have their fun.
Keep up with all the latest gaming news, competitions, future discounts (listed below) and amazing content.
Twitter: @Go2Games
Instagram: @go2gamesshop
Youtube: Go2games.com
Facebook: Go2games.com
You can subscribe to the Go2Games newsletters via the website.
(Great deals and Discounts)
Use TPOINT10 – For 10% off Two Points Hospital (Xbox One)
**Ends July 14th 2021**
Use BLOOD10 – For 10% 0ff Bloodborne – GOTY Edition (PS4)
**Ends July 14th 2021**
Use SQUAD10 – For 10% off Star Wars: Squadrons (PS4)
**Ends July 14th 2021**
Use GEARS10 – For 10% off Gears 5 Standard Edition (Xbox One)
**Ends July 14th 2021**
Use VULCAN10 – For 10% off Roccat Vulcan 121 – Mechanical RGB Gaming Keyboard
**Ends July 14th 2021**
Use VULCANRGB10 – For 10% off ROCCAT Vulcan 120 – Mechanical RGB Gaming Keyboard
**Ends July 14th 2021**
Use KHAN10 – For 10% off ROCCAT KHAN Aimo 7.1 High Resolution RGB Gaming Headset – White
**Ends July 14th 2021** https://www.go2games.com/roccat-khan-aimo-gaming-headset-white
Use KAIN10 – For 10% off Roccat Kain 202 Aimo RGB Wireless Gaming Mouse – White
**Ends July 14th 2021**