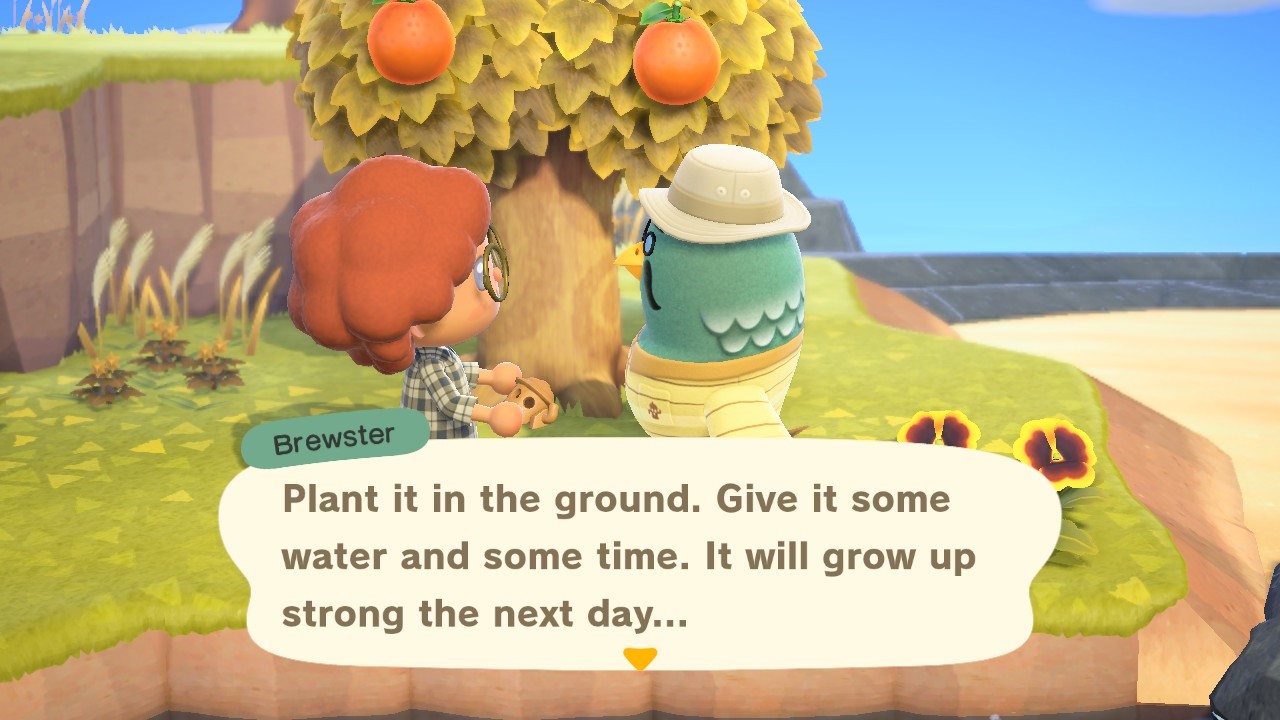 We all want our beloved Brewster back in Animal Crossing New Horizons…we miss our adorable, barista pigeon who gave us….coffee with his special pigeon milk. Brewster is a character who has been known throughout multiple Animal Crossing games, Wild World, Let's Go To The City (City Folk) and New Leaf. Fans, such as myself have been waiting for the moment he would be added and alas, that time has come in Animal Crossing New Horizons Update 2.0!
Without further ado, here is a step-by-step on how to get Brewster in Animal Crossing New Horizons, with bonus pictures to guide you.
If you want the SHORT version, scroll down to Step 6.
If you haven't already, you need to Update Animal Crossing New Horizons, to do this you will need to be at your Nintendo Switch Home Screen with Animal Crossing New Horizons software available! (Either insert the cartridge or download the software).
Once the Animal Crossing New Horizons Tab shows, you'll want to press the + button on your Switch to open Options.
You'll then see a list, Click Software Update and then Via the Internet, the Nintendo Switch will then search to see if you have the latest software, If you don't, select for the game to be updated and it'll take roughly 10 minutes, if you've already got the latest version of Animal Crossing New Horizons, you'll all set!
Step 2: Open The Game & Go To The Museum
As usual, Isabelle will do the announcements and talk about the many new things added to Animal Crossing New Horizons, at the start of you opening the game.
However, the first thing you want to do is go to the Museum and Speak to Blathers! He will be waiting in the museum with a thought bubble above his head. 
Once you have spoken to Blathers, he will send you on a quest to find Brewster and also give you Brewster's Photo as a gift.
If you DO NOT see the thought bubble or get this conversation, then perhaps it could be due to the fact you've not unlocked the Art Gallery Yet, or the Museum to begin with.
To get the Art Gallery, you will have had to donate 60 fish, bugs or fossils in total to the Museum, Blathers will then talk to you about opening an Art Gallery. You will then get to speak to Redd the next day. Buy his art and then donate it to Blathers, the Art Gallery should then pop-up after two days.
Step 3: Find Kapp'n
Blathers would have told you to go and see Kapp'n to head out on a tour, and find Brewster, as he suspects Brewster is on an island looking for Gyroids.
To Find Kapp'n head to the island Docks, where you'll see him lounging in a small boat, speak to Kapp'n about heading out on an island tour! An island Tour costs exactly 1000 Nook Miles!
Step 4: Find Brewster
(I know, we're shocked to see him in casual clothing as well…it's kind of, disturbing…).
Kapp'n will drop you off at a random island, Brewster will be on the first island you visit. You will need to search around the island to find him!
After speaking to Brewster, he will tell you to send a message to Blathers and give you a Gyroid Fragment.
Step 5: Speak to Blathers Again
Next, you'll need to leave the island, take any extra resources with you…and then make your way back to the museum and speak to Blathers. Relay Brewster's message and then Blathers will tell you that the Museum will be shut for refurbishment, the next day. 
The refurbishment will take 1 full day, but the Cafe will not be available until the day after. This means if you aren't time travelling, you will not see Brewster's cafe until the 6th of November.
Step 6: Wait (Or Time Travel)
Now, all you have to do is sit back, relax and wait for time to do its magic, or if you prefer to time travel, you can get to the cafe right away!
Here is a summary of all the steps!
Step 1: Make sure Animal Crossing New Horizons is Updated to 2.0
Step 2: Start the game, Go to the museum and Speak to Blathers, he should have a thought bubble above his head.
Step 3: Go and speak to Kapp'n and go on an island tour, the price is 1000 Nook Miles.
Step 4: Find Brewster on Kapp'n's island tour and speak to him.
Step 5: Speak to Blathers, and tell him Brewster's message!
Step 6: Blathers will tell you the Museum will be closed the next day, so save your progress. You can either save and time Travel two days and get to the cafe instantly or wait two days.
Enjoyed the content? Keep up with all the latest gaming news, competitions, future discounts (see down below) and amazing content.
Twitter: @Go2Games
Instagram: @go2gamesshop
Youtube: Go2games.com
Facebook: Go2games.com
You can subscribe to the Go2Games newsletters via the website.