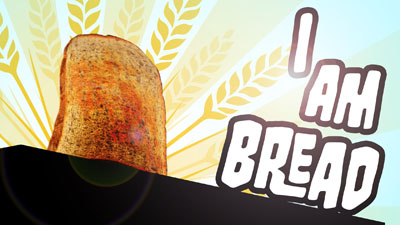 I Am Bread
The simulator game will be heading to iOS later this year
Bossa Studios has revealed that it plans to bring their Steam Early Access game to the iOS later this year. Hooray! 
Bossa announced the news in a video, stating that the team expects the mobile edition of the simulator game to launch later on this year, but adding that finishing the title's currently available Steam Early Access version on PC and Mac is the studio's top priority at present.
A new patch has been prepared by the studio, which is expected for Steam release this Friday, and will be showcasing a Cheese Hunt game mode and a brand new garage area. I Am Bread follows Bossa's major commercial success 'Surgeon Simulator', a game about ungraceful and unfavourable surgical operations that was an absolute tour de force with Twitch and YouTube crowds.
It initially launched on Windows PC, Mac and Linux in 2013, and arrived last year on Android, iOS and PlayStation 4 platforms.
I don't know about you, but I'm overjoyed with this news! I've always wanted to be a slice of BREAD! Take a look at the I Am Bread game-play video HERE, on our 'Exciting Game Trailers' playlist on YouTube.