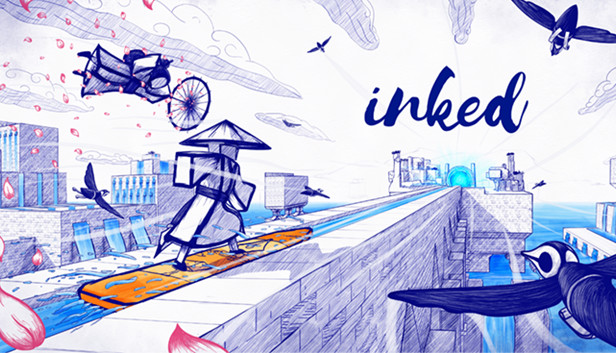 The wholesome indie game everyone needs right now…
Inked: A Tale Of Love, developed by Somnium Games and published by Pixmain, has been announced it will arrive on PlayStation, Xbox, and Nintendo sometime this year.
This ballpoint pen-drawn puzzle adventure was originally released on PC in 2018 and has only been released on iOS and Android very recently, under the name Inked, which had "a new enriched storyline with a more immersive and smoother player experience". 
The developer Somnium Games is an indie development studio based in Croatia that was founded in 2014, and the publisher Pixmain is a new publisher founded last year.
Inked: A Tale Of Love
In this story-driven puzzle game, a tale of love and redemption is uniquely told through pen and paper. Players will play as The Nameless Hero, who sets out on a journey in a beautiful landscape filled with puzzles to solve. Each puzzle takes them one step closer to their lost love, Aiko, and unravels an enchanting story that intertwines The Artist and The Nameless Hero in an adventure that will forever change them both.
The gameplay allows you to explore 10 different hand-drawn paper worlds, use your magical paintbrush to draw geometric shapes to clear obstacles and solve puzzles and unveil a heartwarming story to comfort your soul.
Since its initial release, Inked: A Tale Of Love has received multiple awards. At GameConnection Asia 2020, it won the Grand Award, Best Upcoming Game, Best Casual Game and Best Mobile/Tablet Game for its mobile version.
This certainly looks like a game we can all escape with and I for one am very excited.
Grab these voucher codes for our website for some discounts! Offers must end on August 2!
Use ODYSSEY10 – For 10% off Super Mario Odyssey (Switch)
Use POINT10 – For 10% off Two Points Hospital (Xbox One +  PS4 )
Use EVOLVED10 – For 10% Off Ark Survival Evolved (PS4)
Use DCGIRLS10 – For 10% off DC Super Hero Girls (Switch)
Use VULCAN10 – For 10% off Roccat Vulcan 121 – Mechanical RGB Gaming Keyboard
Use VULCANRGB10 – For 10% off ROCCAT Vulcan 120 – Mechanical RGB Gaming Keyboard
Use KHAN10 – For 10% off ROCCAT KHAN Aimo 7.1 High-Resolution RGB Gaming Headset – White