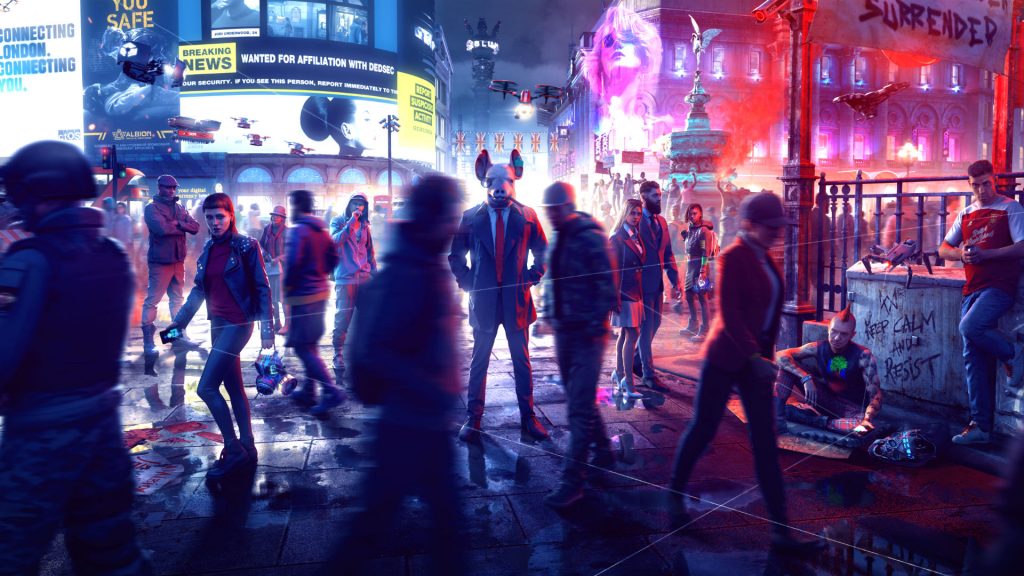 Watch Dogs: Legion is a Trip, Gameplay Review
"With explosives, newly crafted AI and epic Car chases, hack your way around while you explore the streets of London and restore order after the city has been oppressed in Watch Dogs: Legion."  Last weekend, Ubisoft offered a free trial of Watch Dogs: Legion, which was only available from Friday 3rd September – Sunday 5th September. "It's an action-adventure game developed by Ubisoft Toronto." I've never been the type of person to play these types of action-adventure games, I've always been more of a JRPG action-adventure gamer, especially when it crosses the modern world with fantasy elements. Watch Dogs: Legions has a little bit of a 'Grand Theft Auto vibe' to it, one with a lot of sci-fi. Here's are my thoughts after trying it for the first time. So do you want the good news or the bad news first?
Let's start with Watch Dogs: Legions Disadvantages
Not that there are many disadvantages but I'm going to be as honest as I can.
The first 15 minutes of the game was me trying to break into the House of Parliament. The moment and the action seems slow-paced, which might be in relation to the fact there isn't much of music soundtrack to go with it, they feel very repetitive. It also may have to do with the fact my character moves pretty slow.
Despite the dialogue, I remained rather confused at the beginning, I didn't understand why we were breaking into the House of Parliament and what the aim was. The back and forth dialogue, occasional unfunny humour, had me baffled on the topic for quite a while.
I want to know the relationship
We have the option to play multiple characters, but I would like to know the relationship my original character we start off with, has. When I say relationship, I don't mean romantic. I mean understanding his motive, why is he doing what he is doing and who for? Generally, people don't throw themselves in a life-threatening situation for nothing, who does he care about in order for him to take such a risk? That's what I want to know.
Watch Dogs: Legions – Gameplay Advantages
Now let's get onto the advantages of Gameplay.
You really will get that feeling of being in London, it's very accurate in terms of design and graphics, even pubs and small alleyways, to the buses and the road works. It's very impressive and without a doubt, makes you feel like you are prancing around London.
You feel like you're partially watching a movie during gameplay
Due to how realistic it is, this really does feel I'm watching an action film, not just the people of London, but the facial expressions, cut-scenes, dialogue and the way my character gets around. They aren't doing crazy backflips and parkour, but a more human escape or attack that's within a realistic range.
Roaming around the areas is hell-a-fun.
After a certain point, you are able to roam the streets of London while on the way to complete your mission, it's fun to be able to get in cars, take lifts up the buildings, walk into pubs and watch people socialising, and even operating traffic lights and zebra crossings. The amount of detail put into this is immaculate.
you can even get a free bus tour around London
I'm talking a full 30-minute drive, you can even put the bus on auto-drive for the full experience. It really gives an accurate representation of travelling around London in each borough through public transport and allows the player to relax a little while getting on with missions.
The perfect cool-down game
Despite being an action-adventure game laced with sci-fi, it's quite relaxing and if you've just experienced some game rage, it's worth opening Watch Dogs: Legion to play through as a little cool-down.
Overall, Watch Dogs: Legion is worth trying, anyone should give it a go, especially if they want that realistic London experience and want to jump into travel, without leaving their home.
BUY Watch Dogs: Legion! If you enjoyed this, keep up with all the latest gaming news, competitions, future discounts, special offers (CLICK HERE )and amazing content.
Twitter: @Go2Games
Instagram: @go2gamesshop
Youtube: Go2games.com
Facebook: Go2games.com
You can subscribe to the Go2Games newsletters via the website.