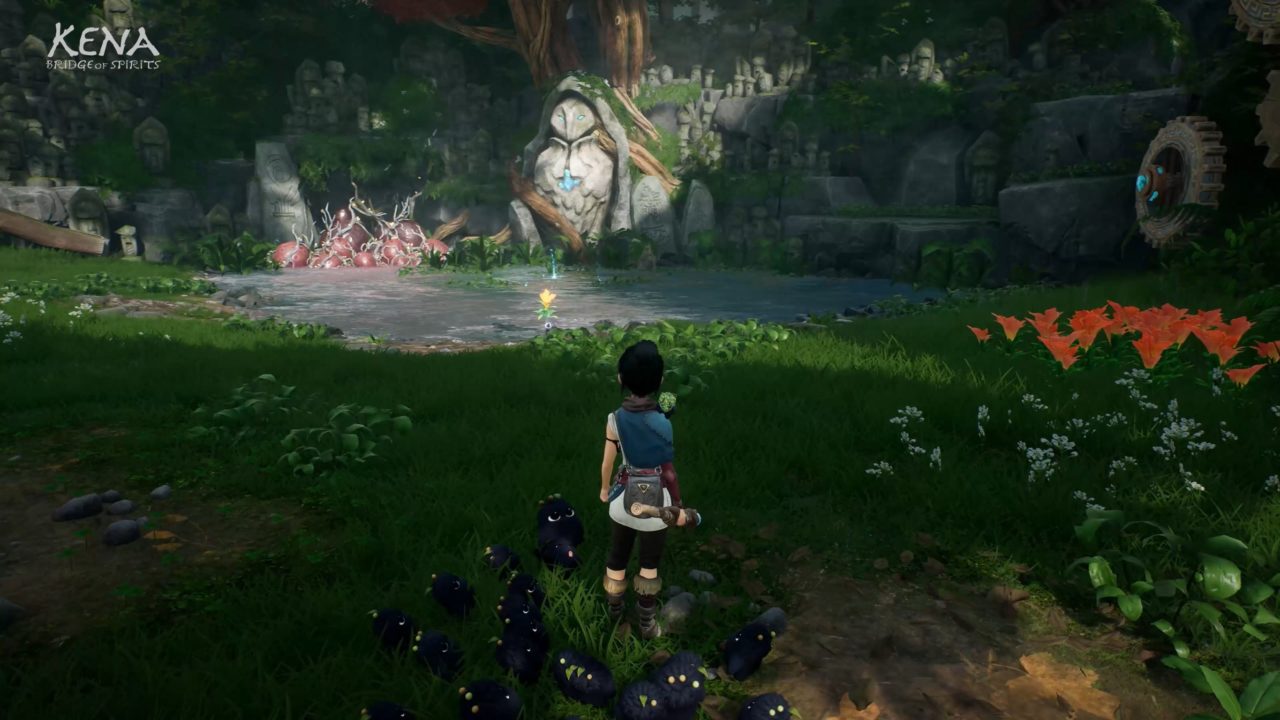 Kena: Bridge of Spirits released on the PS4 & PS5 in Less than 7 hours
We have less than a working day until this game releases and it would be a lie to say a lot of us aren't excited, especially those who are fans of anime and Studio Ghibli films or Avatar The Last Airbender, I mean…come on. You can't tell me this doesn't remind you of Princess Mononoke, My neighbour Totoro or Spirited Away and the meditation and spiritual aspect, along with the insane combat resembles The Avatar. I even go as far as to say this slightly resembles games like Ni No Kuni II: Wrath of The White Witch, even though it's a little more childish than Kena: Bridge of Spirits, I have to throw it in. There are a lot more I could throw in as well, like Ori and The Blind Forest. There's too many to list at once, regardless this is definitely a buy as soon as it's out game for me.
So then, What Is Kena: Bridge of Spirits?
It's happening tomorrow!
Kena: Bridge of Spirits' release is just a blink away!

Have you pre-ordered your copy of Kena which comes with exclusive Rot celebration hats?https://t.co/lUpcmaXulZ#indiegame #countdown #ps4 #ps5 #epicgames#gamelaunch#gamerelease pic.twitter.com/joPNCk8cii

— Kena: Bridge of Spirits (@emberlab) September 20, 2021
Kena: Bridge of Spirits is a narrative action-adventure game developed by Ember Lab. The story follows a young Spirit Guide named Kena who's searching for 'The Sacred Mountain Shrine' she ends up in an abandoned village, deep in the forest and tries to uncover the truth behind the lost community and the trapped spirits. The gameplay also includes 'finding the rot' which will allow the player to get some really cool powers after transforming the environment. The combat is fast-paced and immersive enough to make me feel as though I'm part of an action film.
Just between you and me, I watched the trailer for Kena: Bridge of Spirits on the PlayStation Store, I kid you not…I moved my analogue stick while watching the gameplay trailer and almost forgot it was not the actual game. If that isn't enough proof of how good this looks, I don't know what is.
As mentioned on the PlayStation Store, here are some of the Key Features listed by Ember Lab:
• "Build Your Team: Find and collect Rot to gain powerful abilities, make discoveries, and transform the environment."
• "Explore: A forgotten village and a strange curse. Draw on the power of the Spirit Realm to restore this once-majestic world."
• "Fast-Paced Combat: Spirits have become corrupt, trapped and unable to move on, challenging Kena at every turn."
What will Platforms will Kena: Bridge of Spirits release on?
Kena: Bridge of spirits will be released on PlayStation 4, PlayStation 5 & Microsoft Windows. Hopefully, we'll see this on more platforms in the future. Curious of what the Gameplay is like? Here's 10 minutes of it down below.
Did you know, you can also pre-order it now and have it download on your PlayStation before midnight? That way, you'll be able to play it as soon as it comes available.  I definitely recommend this and will certainly have my hands on it.
If you enjoyed this, keep up with all the latest gaming news, competitions, future discounts and amazing content.
Twitter: @Go2Games
Instagram: @go2gamesshop
Youtube: Go2games.com
Facebook: Go2games.com
You can subscribe to the Go2Games newsletters via the website.