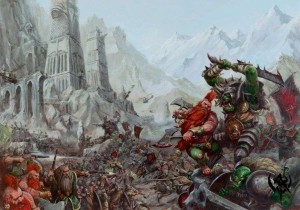 Total War: Warhammer
The works of a Total War game, based in the fantasy Warhammer universe, has been revealed by The Creative Assembly
A copy of the 'Art of Total War' book has accidentally revealed a brand new Total War game. The artbook, which is set for release on January 23, was shipped early to a fan who posted this information onto the Total War forums (via Kotaku.)
Published in the book is an interview with The Creative Assembly's creative director Mike Simpson, which reveals that the developer is currently working on a game entitled 'Total War: Warhammer'.
Nothing much has been heard about the game apart from the attachment of the  'Total War' title but, on knowing this, the game should include similar elements of military tactics and grand strategy.
The developer signed a deal with Warhammer creator Games Workshop in December 2012, so this comes as no surprise that The Creative Assembly are currently working on a Warhammer game. This game will be the first Warhammer edition that The Creative Assembly have worked on.