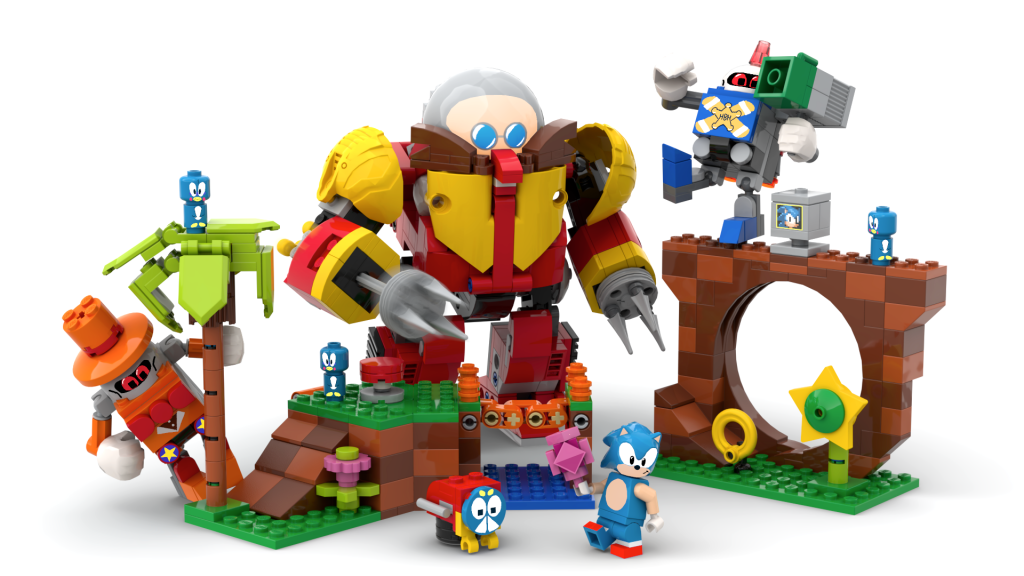 After much consideration Lego have announced the Lego Sonic Hedgehog set is being produced. This exciting news comes from The Lego Group having made the decision to turn the fan-made sonic Mania Green Hills Zone design into a reality.
The Sonic the Hedgehog handle took to twitter to share the collaboration with Lego. One super fan, with a very impressive collection commented, 'can't wait to add it to the collection! Can't believe it's actually getting produced'.
Last year, a fan-made Sonic Mania project reached 10,000 supporters on @LEGOIdeas.

We're excited to share it will be produced as an official @LEGO_Group set!

➡️ https://t.co/Y66HuknMdH pic.twitter.com/J2HiT9hBZW

— Sonic the Hedgehog (@sonic_hedgehog) February 4, 2021
This become a reality thanks to the Lego Ideas Program allowing fans to submit their designs, hoping for recognition from peers. 24 year old Viv Grannell from the UK got lucky when her Sonic Hedgehog Lego design reached over 10,000 supporters in March 2020, which inevitably is now being produced by Lego and Sega, transforming her design into a boxed Lego set.
Creator of the design Viv Grannell claims  'Having 10,000 people back my design was overwhelming enough, even with friends and family behind me, but having it be selected for further development was the most exciting secret I have ever had to keep!' The product is expected to be released later this year and is something Sonic hedgehog and Lego fans can definitely look forward to.