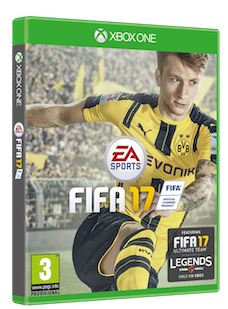 Fifa fans are going to be shocked when they find out their beloved Messi has been replaced on the front cover of Fifa 17 for German star Marco Reus. It has been four years since Messi first got his place on the Fifa the cover and since then has never been replaced. This news has been confirmed from the publisher of EA.
The German star plays for national team plus Borussia Dortmund. The competition was between Anthony Martial (Man United), James Rodriguez (Real Madrid) and Eden Hazard (Chelsea FC). Reus won with 3.1 million votes towards the competition which is an amazing figure and puts in perceptive of how loved Fifa really is.
The Photo below is the brand new Fifa 17 case which will be on the shelf's to buy from 29/09/2016.