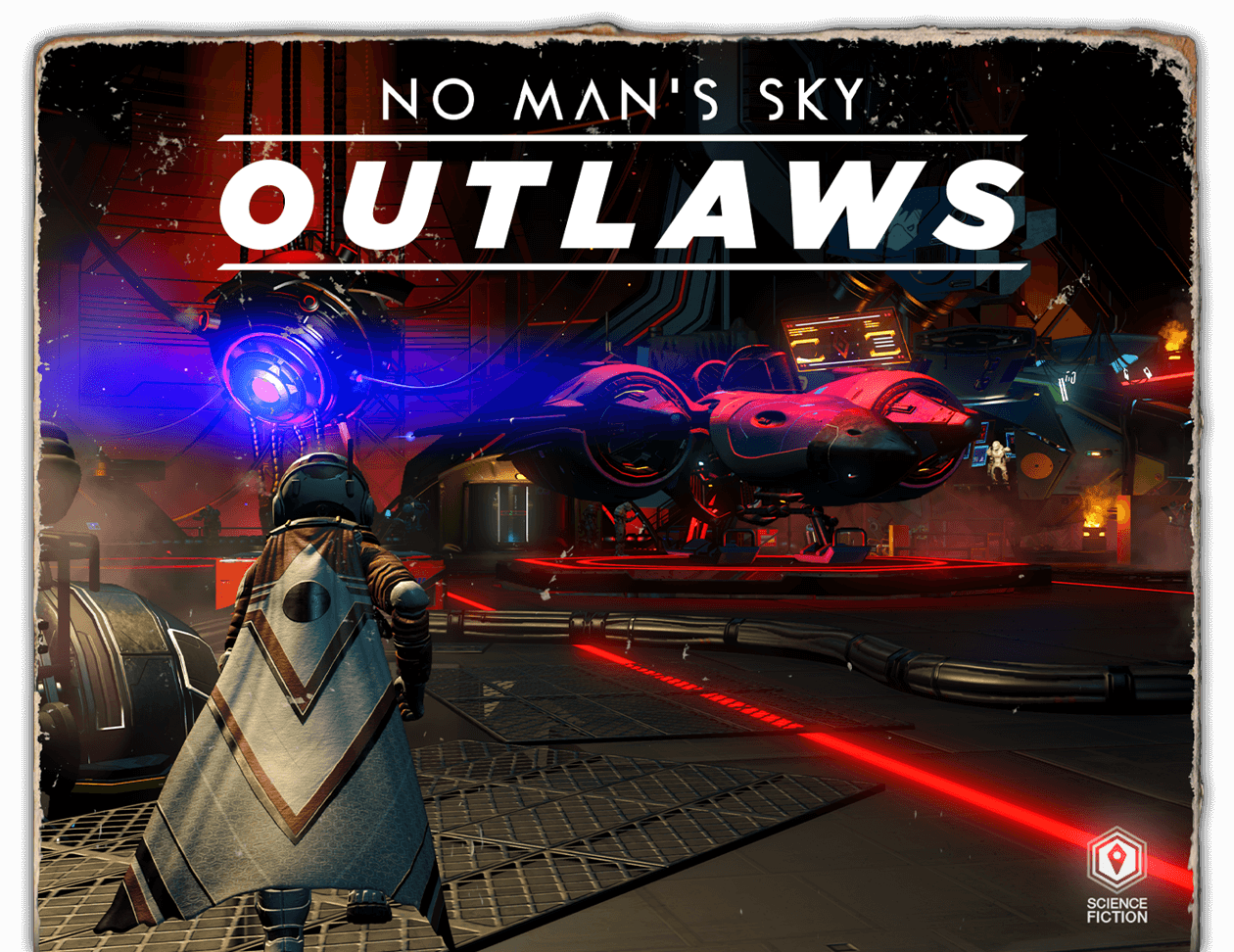 No Man's Sky has received a new free update called Outlaws.
Fans of the space-exploration game were sent into a frenzy two days ago after Hello Games' founder, Sean Murray, tweeted a cryptic pirate flag emoji. Murray has a habit of posting single emojis to announce the arrival of updates, so this latest emoji caused a sea of speculation on what a pirate update could be. This morning, Murray tweeted a second pirate flag emoji, causing even more excitement.
🏴‍☠️

— Sean Murray (@NoMansSky) April 11, 2022
However, fans won't have to wait any longer with Update 3.85 Outlaws out now. The official trailer introduces "outlaw systems; the ability to recruit your own squadron of pilots; improved space combat; a stunning Solar Sail Starship and much more!" Watch the trailer below.
No Man's Sky's last major update Sentinel was released in February, which focused on an overhaul of the combat system and it looks like this latest update follows in the same vein.
Pirate's Life for Me
Outlaws allows players to recruit their own crew of pirates, or wingmen, and has increased the number of ship slots so you can amass your own pirate fleet. The update brings a new ship with solar sails but it also adds planetary frigates to the game as well. And with an improved space combat system and the ability to launch pirate raids on planets, players can terrorise both space-farers and landlubbers alike.
The update also brings a new Outlaws Story to the game and sends players on bounty missions for more pirate raids. Fully committing to the pirate theme, players can smuggle items and evade cargo scans and hide out in your very own pirate coves – or outlaw space stations, if you prefer – when tired of pillaging or hiding from sentinels.
But, perhaps most importantly of all, this new update also allows players to wear capes!
No Man's Sky won a BAFTA last week for the Evolving Game category and, with this latest update, the game doesn't look set to stop evolving any time soon.
Coming to Switch
No Man's Sky is available on Xbox, PlayStation, and PC. But Nintendo Switch owners have something to look forward to as well, with Sean Murray tweeting today that the move to Switch is "shaping up nicely" for this summer, with all five years of the game's updates included from its launch. So watch out for that!
In the background our Switch version is shaping up nicely, it's kind of mind blowing to see this huge game running on such a tiny device 🤯 pic.twitter.com/35zwVn8fG0

— Sean Murray (@NoMansSky) April 13, 2022
Sign up for our newsletter from the website.
Instagram: Go2GamesShop
Twitter: Go2Games
Youtube: Go2Games.com
Facebook: Go2Games.com
Store: Go2Games.com