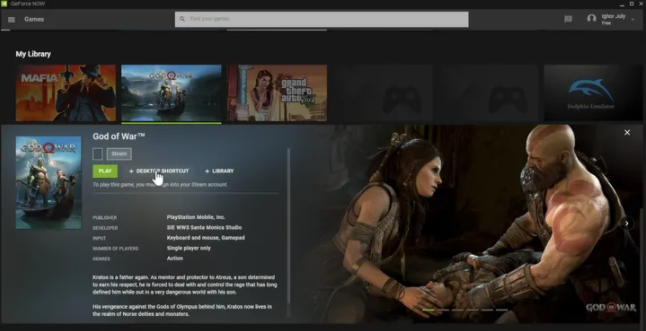 Leaks reveal confidential list of games to be potentially put on the Nvidia GeForce Streaming service
C++ developer Ighor July had "unlocked" an Nvidia GeForce and leveraged intelligent code completion, which led to the developer finding that many unreleased and already established titles were speculated to come to the streaming service, including Playstation Exclusives such as God of War, Returnal, and Demon's Souls. The list of games can be found on Medium, and also on Reddit.
I unlocked NVIDIA GeForce NOW and stumbled upon Pirates https://t.co/XRybQpNaMI pic.twitter.com/4wmQDZlqf9

— Ighor July (@JulyIghor) September 12, 2021
Other returning games date back to the Dolphin Engine era of gaming; Returnal and Demon's Souls, Ratchet and Clank, GTA 3, Vice City, and San Andreas remasters.
There are also many unannounced GeForce Now games that appear like Mafia: Definitive Edition, and incoming PC titles like the Alan Wake Remastered due October 5, and Uncharted Legacy of Thieves Collection for PC due early 2022.
Nvidia is prone to having access to a large number of games before their official release; as are Sony currently keen having on PlayStation games available on PC. For example, after seeing a 250 percent return on its investment porting Horizon: Zero Dawn to the platform, it had announced that Uncharted 4 would be coming to the platform. It was just Thursday that Sony announced that game would be part of the Uncharted: Legacy of Thieves Collection. This title we had been never before heard, but already appears in Nvidia's list as well.
Final Fantasy XVI and Demon Souls also make the list, these are games for which Sony had to remove any mention of "PC ports" to make them sound like PlayStation exclusives. A PS5 exclusive Returnal appears as well, alongside a Final Fantasy VII Remake for the PC.
There have been discussions on if the list had been genuine of which it does appear to be so, as Nvidia has confirmed to The Verge saying so. However, in a statement, they have said that the list of titles is "used only for internal tracking and testing" and includes "speculative titles." Lists of Facebook-exclusive Oculus Rift titles and speculative games such as "Bioshock 2022" and "King of Hearts IV" appear on the list, so it's best to be mindful of titles like these being legitimate. However, only time will tell on how these titles will eventually operate or come to light on the streaming service.
The full statement from Nvidia in regards to the list appears below:
"NVIDIA is aware of an unauthorized published game list, with both released and/or speculative titles, used only for internal tracking and testing. Inclusion on the list is neither confirmation nor an announcement of any game.
NVIDIA took immediate action to remove access to the list. No confidential game builds or personal information were exposed."
Twitter: @Go2Games
Instagram: @go2gamesshop
Youtube: Go2games.com
Facebook: Go2games.com
You can subscribe to the Go2Games newsletters via the website.