Skyward Sword HD is No.1 in the UK, the fourth No.1 for the Zelda series.
The latest UK physical video game software charts are now in, and Nintendo Switch's newly released The Legend of Zelda: Skyward Sword HD is No.1 for the week ending 17th July. The game is the fourth game in The Legend of Zelda series to reach No.1 following Link's Awakening(Switch), Wind Waker(Gamecube) and Ocarina of Time (Nintendo 64). You may be wondering why The Legend of Zelda: Breath of the Wild wasn't No.1, but it went up against Horizon: Zero Dawn on the PlayStation 4 in 2017. Here's the GfK Top Ten for the week ending 17th July: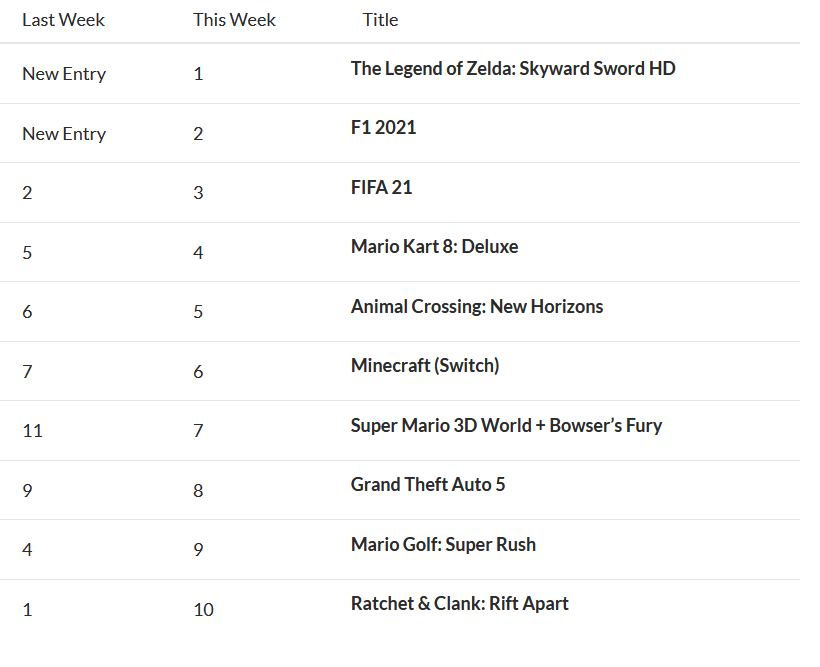 The original Skyward Sword, released in 2011, was one of the lower-rated Zelda games due to a few tedious mechanics which worsened the experience. Well, Nintendo listened and made various changes to the game this time around. The game has received positive early reviews and is clearly doing well (at least in the UK). Their conscious effort to remove such mechanics for the remaster seems to be paying off.
For those intrigued by the title, see the most recent trailer below:
Similarly, for those who are eager to purchase the game for themselves, you can do so from our Go2Games website.
To keep updated with the shop activities and weekly competitions, follow Go2Games on social media:
Instagram: Go2Gamesshop
Twitter: Go2Games
YouTube: Go2games.com
Facebook: Go2Games.com