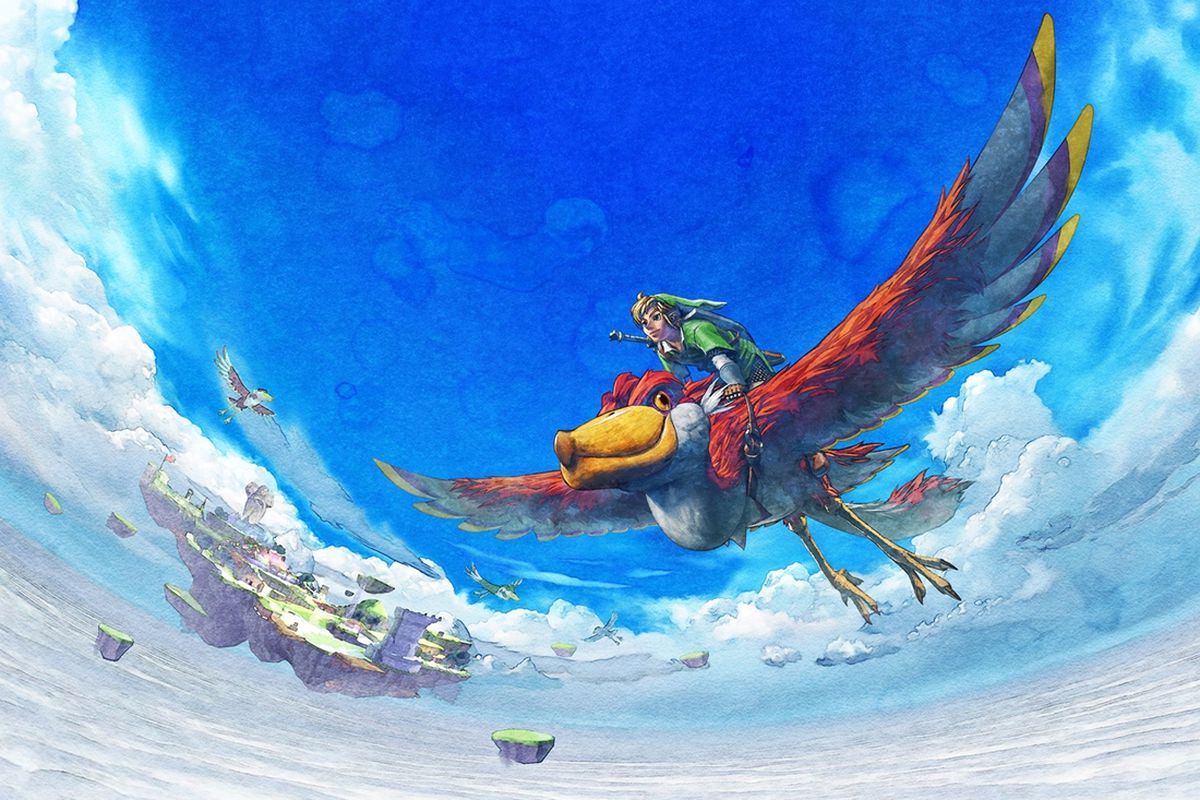 A promising start…
When the original game released for the Wii in 2011, it came with mixed reviews. Much of the negative response it received was related to a few questionable game mechanics. It seems Nintendo has listened as they have made some quality-of-life changes for the upcoming Switch remaster.
First and foremost, players no longer have a fixed camera angle like in the Wii edition. Skyward Sword HD now lets you rotate the camera freely. Players will have a choice between motion controls like that of the Wii edition or a new button-based format. According to the official Zelda account on Twitter, players who opt for the new, button-based controls can hold down the left bumper to free up the right stick for scanning the environment.
【カメラのみまわし】#スカイウォードソードHD では、カメラを自由に回せるようになりました。いろいろな角度から世界を見渡してみてはいかがでしょうか?
(Joy-Con 2本持ちならRスティックを回す。ボタン操作ならLボタン+Rスティックを回す。) pic.twitter.com/I4g94H2SNi

— ゼルダの伝説 (@ZeldaOfficialJP) July 13, 2021
However, that right stick is a crucial part of Skyward Sword HD's updated control scheme, acting as a replacement for the motion-based sword attacks that vexed players in the original. This means (at least as far as I can tell without the game in my hands) that players won't be able to attack and move the camera simultaneously. An annoyance, for sure, but it's still better than nothing.
Other more general improvements include enhanced visuals and framerates, a reduction in companion Fi's interruptions, the ability to fast-forward through dialogue and skip cutscenes, and no more repeat item descriptions after you've already encountered them. Many of these details contributed to the game's poor reception in 2011, therefore, it seems Nintendo is committed to getting it right this time around.
The first review for Skyward Sword HD has also been rolled out. This review was done by Japanese publication Famitsu, with western reviews still a few hours away from publication at the time of writing. Famitsu's scoring system has four different reviewers rate the game out of ten; in this case, the magazine's reviewers opted for scores of eight, nine, nine, and eight, resulting in an overall score of 34/40. A strong start for the latest Legend of Zelda title.
The Legend of Zelda: Skyward Sword HD launches exclusively on Switch on July 16th – and you can pre-order it now from our Go2Games website.
To keep updated with the shop activities and weekly competitions, follow Go2Games on social media:
Instagram: Go2Gamesshop
Twitter: Go2Games
YouTube: Go2games.com
Facebook: Go2Games.com