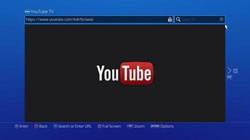 YouTube for PS4
The PS4 finally joins in with getting the YouTube App!
The YouTube app (available to download for free through the PlayStation Store) has been introduced through the PS4's 2.0 update and allows players to upload their game play directly to the site!
This app uses YouTube's latest design, which enhances the game play experience when playing on a larger screen, whilst allowing you to watch videos in up to 1080p resolution and discover brand spanking new ones.
The YouTube app is used in exactly the same way as the existing Facebook sharing process: press the share button, edit a clip, give it a title and description, and uploading will begin!