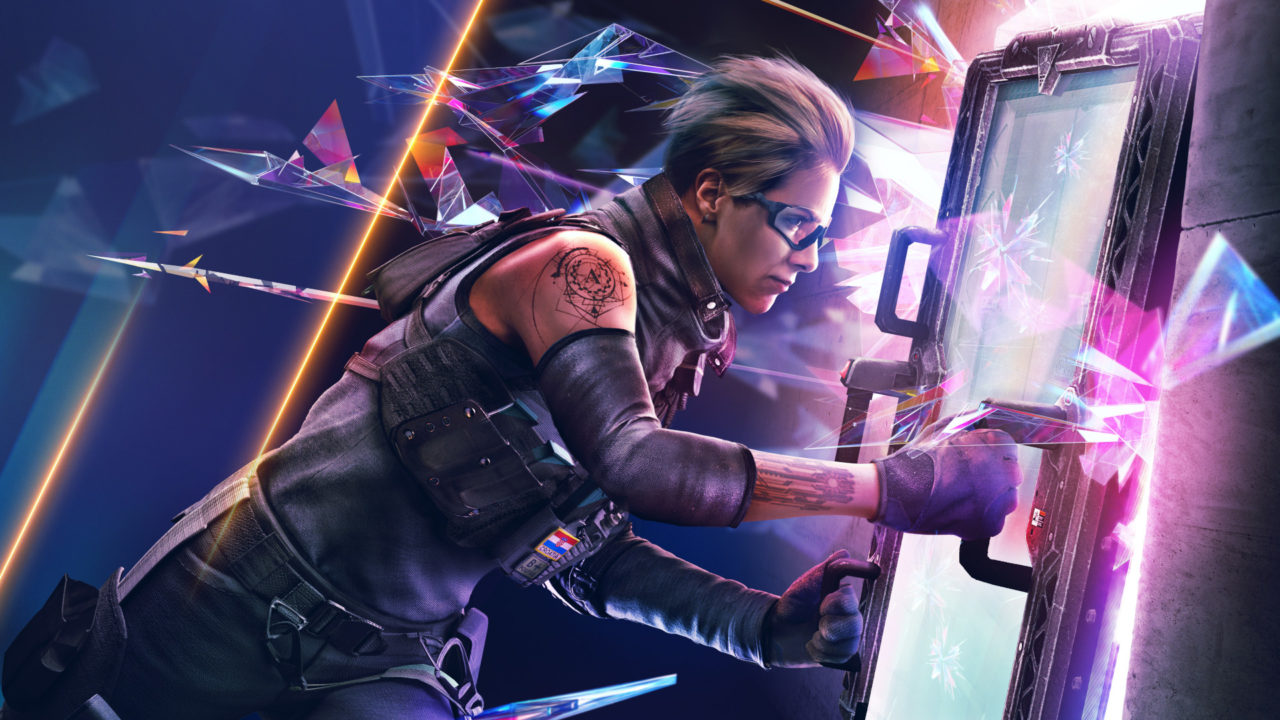 Alongside the new operator, there are a host of significant changes being made…
Rainbow Six Siege's upcoming new season, Crystal Guard, is set for a September launch. It brings with it some quality of life changes to game mechanics, maps, and the new operator, Osa, who is also the first transgender operator added to the game.
Osa has been gifted a transport Talon-8 shield that can be either carried or deployed on the floor or in windows and doorways. She also has a little robot toy in her teaser trailer, but it does not look like this will be utilised in her kit.
As seen in the gameplay trailer below, a gap is left after placing the shield in doorways or windows, so if used carelessly, the opposing team could peek through it and punish you. The trailer also highlights that the shield is bulletproof, although it can be broken through melees.
Interestingly, Osa is an attacker. I can imagine her utility is handy in post-plant situations to block an entry point whilst getting information on the other side. Similarly, an Osa player could rappel on a window after placing her shield and use the gaps to lay down cover fire. Alternatively, Osa can simply place her shield to create cover where there is none, opening up a safer line of sight and holding possibilities for her teammates.
Ubisoft has a habit of introducing operators who shift the meta entirely, adding a whole new dynamic to the game. This is what keeps Rainbow Six Siege fresh and is part of the reason why the game is still so popular in year six.
The developers have also released some background info on Osa in a letter from one Siege character to another. It says: "The device she's bringing is sure to play on lines of fire. A clear shield with mechanical claws that digs itself into surfaces and frames? Its defensive capabilities designed for offensive missions might make Mira jealous that she didn't think of that first."
The Crystal Guard update also includes reworks of three maps; Bank, Coastline, and Clubhouse. All three maps have received technical overhauls to match modern standards, and Bank has received an art overhaul. The new update now allows players to mix and match elite headgear and uniforms with any other headgear and uniforms, as long as it's for the same operator. The update also brings some changes to game mechanics and operators. For example, IQ is being reworked so she can now mark enemy utility. Additionally, the way flash bangs operate is also being tweaked. These changes are only a few among many, to see all the changes in detail, watch the above video.
Go2Games has been nominated for two separate awards (by the Croydon Awards) for our efforts in our community. The first award is for community collaboration in response to Covid-19, and the second, for Covid-19 business commitment to education, training, and skills. Any votes from our fellow Go2Gamers would mean the world to us. You can click on the above links for more information on the individual awards and to vote.
To keep updated with the shop activities and weekly competitions, follow Go2Games on social media:
Instagram: Go2Gamesshop
Twitter: Go2Games
YouTube: Go2games.com
Facebook: Go2Games.com