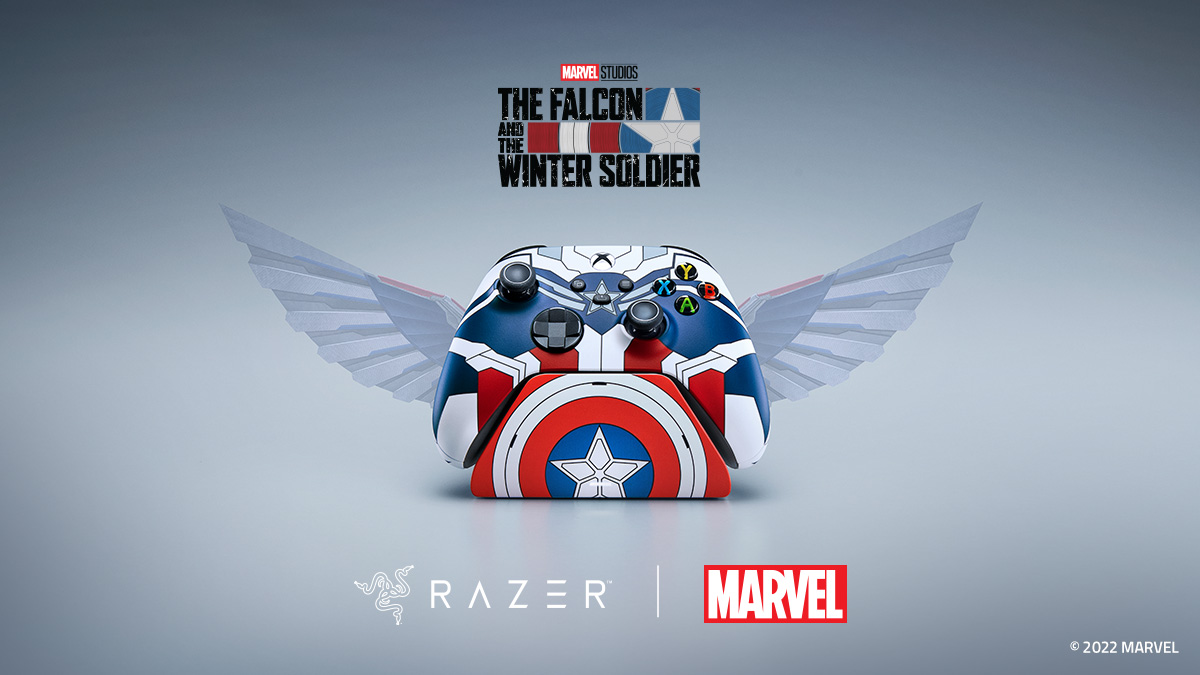 Limited edition controllers are a thing. I kinda like them, although to be fair I get the feeling everyone owns at least like 3 Xbox 360 controllers with wildly different deco's. Microsoft has always been king in this regard and while, Being real, I think the Xbox series X/S controllers are the worst of this generation (lacking Haptics and Gyro, features that are becoming standard on other controllers), its still a solid controller and well worth picking up if you need a new Basic Pad for PC.
Now, microsoft has partnered with Razer and marvel to produce a new controller, themed around Marvel Superhero Captain America. That's Sam Wilson Captain America/Falcon, to be clear, not Steve Rodgers. For some people I know this will be a turn off from the controller, but from a design standpoint… it really doesn't matter. Just means there's more White in the deco than normal for something Cap Themed.
Wield the shield with our officially licensed Marvel Studios' The Falcon and The Winter Soldier Xbox controller and charging stand—inspired by the new Captain America. Become the symbol of liberty with this must-have collectible. Sign up to be notified https://t.co/HqQNKwXxLj pic.twitter.com/X91akZ9S6J

— R Λ Z Ξ R (@Razer) March 22, 2022
The controller itself appears to be a standard X/S controller, however it comes with a charging dock based on Caps Sheild.
Besides that, this has the standard feature set for Xbox Controllers from this generation, which, despite me slagging off its lack of Haptics and Gyro earlier, is not a bad feature set. Sure I will still take a steam controller of dual sense over this thing, but lets be clear that the Series X/S controller is a solid bit of tech that does all that it needs to do.
Unfortunately, there's a catch. This bundle, currently available on razers website… costs $179.99. Friendly reminder that an Xbox Series S costs about $299, meaning this controller bundle costs just over half as much as a whole console. That's a big yikes.
If your looking for more reasonably priced Xbox Controllers, check out go2games.com
Sign up for our newsletter from the website.
Instagram: Go2GamesShop
Twitter: Go2Games
Youtube: Go2Games.com
Facebook: Go2Games.com
Store: Go2Games.com