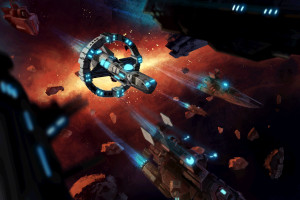 Sid Meier's Starships
The new interstellar strategy game from Firaxis has been revealed!
Coming to the PC, iPad and Mac early this year is the turn-based strategy game, Sid Meier's Starships, which was announced by Firaxis & 2K. No pricing was announced though, nor if an android version will be made available. In the game, you'll be able to control a fleet of starships as you journey through the galaxy to complete missions, protect planets and their inhabitants, and build a planetary federation.
2K also adds that the missions you'll take on have their very own unique maps, featuring "dynamically generated tactical combat" that should boost the entire game's replayability. You'll also be challenged to expand your federation's reach and influence, as you journey through the stars. If this isn't enough, you can take part in turn-based combat using a host of customisable ships.
"When designing Starships, I was intrigued by the idea of exploring the next chapter in the story of Civilization: Beyond Earth," Meier has said. "What happens after we colonize our new home and eventually build starships to take to the stars? What has become of our long-lost brothers and sisters from the planet Earth?". "My goal was to create an experience that focuses on starship design and combat within a universe filled with interstellar adventure, diplomacy, and exploration."
2K has also teased that Beyond Earth and Starships will feature cross-connectivity for people who own both games. This integration will "enhance and expand upon both game experiences.", the developer has said. Starships was developed by Meier and a small team at Firaxis.