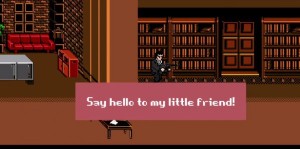 Scarface
The iconic film has been made into an 8-bit shooter. What fun!
I'm sure I speak for most people when I say, Scarface is awesome…all over! So look what we have now… An 8-bit game version of the film you say?! I think so!
The game is packed full of tributes to Brian De Palma's iconic gangster movie, with quite a few amusing observations to accompany it. It's created by 8 Bit Cinema, the outfit behind classic era game recreations of such films as Blade Runner, Fight Club and Inception. This Scarface spoof is mostly a side-scrolling combat game, which includes such classic moments as "Hire squirming Ernie," "blow up the journalist" and "say hello to my little friend." I think we all know that one!
The 1983 film sees a petty drug dealer turn into the ultimate crime lord, with Al Pacino as this main character. Obviously great! If you haven't already seen the film then do so, it's a great watch, and this 8-bit game promises to be one-of-a-kind and a classic!
If you haven't already seen the game-play then you can watch it HERE, on our 'Exciting Game Trailers' playlist on YouTube.