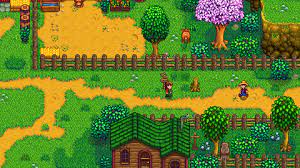 Stardew coming to Xbox Game Pass This Autumn Along With A Few Other Indies
Microsoft's Gamescom featured a number of indie games and it just so happened that the spotlight had been taken by Stardew Valley, developed by Concerned Ape. Many Xbox Game Pass users will be happy to see that they get this popular farming sim for free.
https://twitter.com/XboxGamePass/status/1425185184597557262
What is Stardew Valley Exactly?
Stardew Valley was originally released for Microsoft Windows in 2016, following this date until 2021, Stardew Valley gained a massive fanbase and was released on multiple consoles and devices such as; macOS, Linux, PlayStation 4, Xbox One, Nintendo Switch, even PlayStation Vita and a mobile release for iOS, and Android.  Stardew Valley (that is often compared to 'Story of Seasons: Friends of Mineral Town') is a farming sim where the player has inherited their grandfather's old farm, they start off with a limited amount of tools and money to start their journey at building the farm again from scratch and restore what was once filled with greatness.
Full List of Indie Games Announced
OlliOlli World
Stardew Valley
The Legend Of Wright
Inked
The Big Con
Lab Rat
Sam & Max Save The World Remastered
The Vale: Shadow of the Crown
Lightyear Frontier
Pathfinder Wrath of the Righteous
Aragami 2
Aeon Drive
Evil Genius 2
The Artful Escape
Pupperazi
Spacelines from the Far Out
and lastly…..Library of Aruna
It's nice to know there will be a wider range of indie games for Xbox Game Pass users to grab on to and enjoy, as I've said time and time before, despite the fact that the indie game community is quite big, many indie game developers and publishers still need as much support as they can get, thumbs up to Xbox for helping.
Keep up with all the latest gaming news, competitions, future discounts, and amazing content.
Twitter: @Go2Games
Instagram: @go2gamesshop
Youtube: Go2games.com
Facebook: Go2games.com
You can subscribe to the Go2Games newsletters via the website.